No Boundaries with Drink Pouches
Go anytime, anywhere!

Are you throwing a pool party this summer? Or maybe you own a restaurant and need a great way to package drinks for delivery? Our new Drink Pouches are a fun and convenient way to serve drinks.
With Drink Pouches, you can take drinks with you anytime, anywhere. Cold drinks like smoothies, juice, water, iced coffee, cocktails, and protein shakes are easily transported with these new pouches.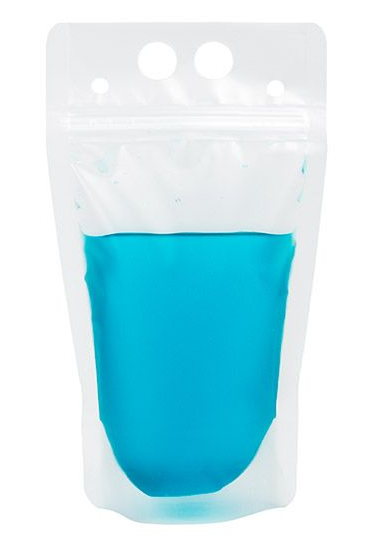 For meal planning, you can pre-fill the pouch with powdered mixes like protein, lemonade, or iced tea and then add water when you are ready. Drink pouches are versatile and very convenient.
Pouches can be easily filled with 14oz of liquid (up to 158 degrees Fahrenheit) and feature a strong resealable zipper. Simply pour in your drink of choice, seal the zipper, slide your favorite straw into the small holes, and head out the door. Pouches are a safe option poolside or at the beach, so there is no worry of broken glass.
Drink Pouches are sure to win over the crowd at any party or event. They can be customized with vinyl, stickers, or markers. For larger events, we offer custom labels or custom printing.
If you own a bar or restaurant, pouches are great for delivery and to-go orders. They will cut down costs of purchasing separate cups and lids, while providing a spill proof delivery option. Customers will enjoy receiving their beverage in this pouch and delivery drivers will appreciate the fact that they don't need to worry about drinks spilling in their vehicles.
Drink Pouches are available in two options: clear or frosted. They measure 5 1/16" x 1 9/16" x 9" and hold around 400 ml or 14oz of cold liquid. The usable space for stickers or labels is 4 ¼" x 5 ½".
The Design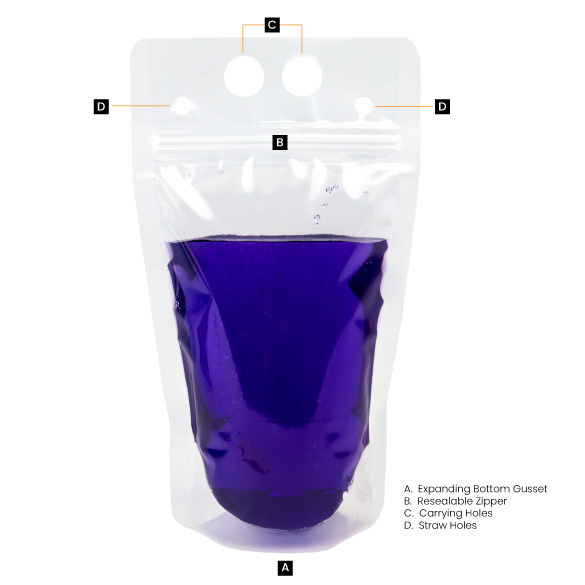 A. Expanding bottom gusset allows the pouch to stand on its own once filled
B. Resealable zipper for an airtight, spill proof closure
C. Carry holes- insert your pointer and middle fingers into the holes for easy carrying
D. Straw holes- slide a straw of your choice into the holes for convenient storage until ready to use
The uses for these drink pouches are endless!
For parties, you can prefill with drinks, so your guests can just grab a drink and enjoy. Straws are sold separately, so you can purchase coordinating straws to match your theme and party decor.
Day trip to the lake or beach? Place your favorite drinks in the pouches and load up the cooler. They are less bulky than cans and water bottles. Plus, once you are done using them, they flatten back out and take up little space.
Heading to the gym? Fill a pouch with your pre or post workout shake, and throw it into your gym bag. The airtight zipper will keep the contents safe without worry!
Drink Pouches are the hot new summer trend. Stock up now before they sell out!
To learn more about Drink Pouches, click here to watch the video.