The wide world of packaging has so many different types of materials, plastics, and other terminology that might be unfamiliar and confusing when looking for the perfect packaging for your product. With this quick glossary of terms, we hope to make it a little easier for you to know exactly what it means when it says "Polypropylene" or "BOPP". Let us know in the comments if you have any additional questions and we will add them to the list!
A
Acid Free– Safe for long term storage due to the acid buffer of plastic materials
Airsafe Boxes– Art boxes that meet UPS and FedEx insurance standards for a full 2" of free air space between your product and the outer wall
Airsafe Spacer– Available in 1" or 2" depths to keep space between your product and the box
Album Sleeves– Plastic sleeves that are designed to protect and display vintage vinyl records and album covers. Also known as "Blake Sleeves"
Archival– Plastic material used to protect items from acid, dust, dirt, etc.
B
Backing Board– A stiff, pressed cardboard made from 100% recycled fiber used for art and photo to provide a firm backing. Available in black or white. (See photo)
Bags on a Roll– Large, heavy duty bags rolled around a plastic or cardboard core that can be perforated for easy tear off
Barrier– A term used to describe the material of a bag or box that protects contents from moisture, dirt and other contaminants. Different materials have different barrier properties.
Book Covers– A crystal clear plastic wrap designed to cover and protect most books
BOPP– aka Biaxially Oriented Polypropylene – A film that has been stretched in the machine in the longitudinal direction and the transverse (lateral) direction to provide a crystal clear polypropylene.
C
Candy Tackle Boxes– Ideal for displaying truffles, chocolates and even jewelry, crafts, fishing tackle, and more. The base comes with a 12 mil clear lid that snaps for a secure closure. Made from food safe PET material. (See photo)
Canvas Gallery Wraps– Bags that are thicker and stronger than a standard bag and have an oversized flap to hold European and Domestic sized canvases
Card Jackets– A plastic that wraps around the front and back cover of a card to protect against dust and handling while allowing cards to be opened
Child Resistant– Packaging that complies with regulations regarding safety of children from harmful products
Clam Shells– Boxes designed to hold products in the retail environment. Place products inside and snap shut for a tight closure. Great for products with sharp edges
Cone Bags– Clear, cone-shaped bags. Great for party favors, Easter treats, bath salts, and more. Available in two sizes and with a thicker, reinforced side seam option.
Co-Ex Mailers– Also known as poly mailers, these bags are made of a 3-layer co-extruded LDPE material that is opaque white on the exterior and silver in the exterior. Great for shipping non-fragile items.
Coffee Bags– Ideal for packaging roasted coffee beans and teas. These high barrier, side gusset bags keep coffee beans fresh with a one-way degassing valve and aluminum layer to protect from oxygen and moisture. Bags can be sealed with a heat sealer or kept securely fastened with a double wire, adhesive tin tie. Available in various sizes, colors, and a flat-bottom option.
Comic Book Bags– Clear bags specifically designed to protect and preserve comic books. Two sizes available with or without adhesive.
Cupcake Bags/Boxes– Packaging made to hold standard, mini or jumbo-sized cupcakes. Options available to hold one, a half dozen or one dozen cupcakes.
Customs– If we don't carry the size you need, you can have it custom made. Custom sizes, shapes and printing available with low minimums
D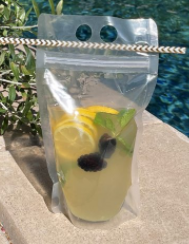 Deckled– An irregular, untrimmed edge-often used for ornamental effects on stationery
Dental Barrier Bags– Bags designed to protect items found in a dental office and aid in the prevention of cross-contamination
Drink Pouches– Expanding bottom gusseted zipper bags designed to hold liquid. These bags feature two holes for carrying and two holes for a straw carrier. Available in clear or frosted. (See photo)
E
Eco Clear– Our line of environmentally friendly compostable bags, made from plant based (PLA) materials
Elastic Stretch Loop– Elastic bands used to wrap, decorate and secure bags and boxes. Comes with a pre-tied bow. (See photo)
F
Flap Seal Bags– Plastic bags that come with a flap and an adhesive strip on that flap, which can be folded and sealed over the bag's opening (See photo)
Foam Board– aka Foam Core – A stiff board with a foam core. Great for protecting art, photos, prints, comic books and more. Available in two colors, with or without an adhesive backing
Food Safe– Bags and boxes that are FDA approved for food contact
Freezer Pouches– See Liquid Pouches
G
Gift Basket Bags– Bags that are specially designed to fit gift baskets to keep contents secure. ClearBags gift basket bags come with a round bottom to better fit the curvature of gift baskets.
Glassine– Paper and envelopes that are a translucent, frosted-looking material that is acid-free and unbuffered. Ideal for protecting delicate artwork, photos, documents, cards and more. (See photo)
Grease Resistant Cookie Board– Laminated, white paper cookie boards used to stabilize treat bags and keep cookies intact and fresh. Each board is food safe and has a grease-resistant glossy side to keep your product -and it's packaging- fresh. Available in 14 sizes. Bags sold separately
Gusset– Describes the extra material located on either the side or bottom of a bag that allows it to expand for additional fillable space
H
Hand Sealers– A device used to heat seal bags closed by applying a pulse of energy to the area to be sealed.
Hang Tabs– Plastic tabs meant to adhere to a non-hanging product to allow it to hang in a retail environment
Hanging Bags– Bags that are constructed with a reinforced hang strip on the top of the bag for easy retail display
Heat Sealable Bags– A type of bag specifically designed to be closed using a hand sealer (or heat sealer) to provide an airtight, secure closure
Holographic Print– Similar to an iridescent print, holographic bags reflect light to give the appearance of multiple colors (See photo)

I
IPP– AKA Isotactic Polypropylene, a version of polypropylene material that is softer than BOPP, almost like polyethylene material only much clearer.
J
K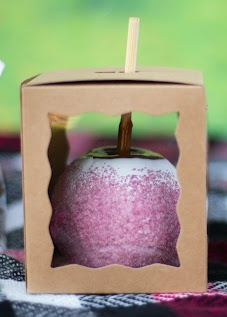 KPET– PVDC coated PET (Polyethylene terephthalate) film that is food safe and has a high moisture, oxygen and aroma barrier
Kraft– A natural-looking material made from natural, unbleached paperboard (See photo)
L
Liquid/Freezer Pouches– Pouches designed to hold liquids. Made from a 4mil food-safe material and features a zipper for a high barrier for liquid items. (See photo)
LDPE– aka Low-Density Polyethylene – A material that isn't as clear as BOPP or polypropylene but is commonly used in plastic bags
LLDPE– aka Linear Low-Density Polyethylene – A material that is stronger and clearer than LDPE. Provides an excellent puncture and tear resistant packaging option
M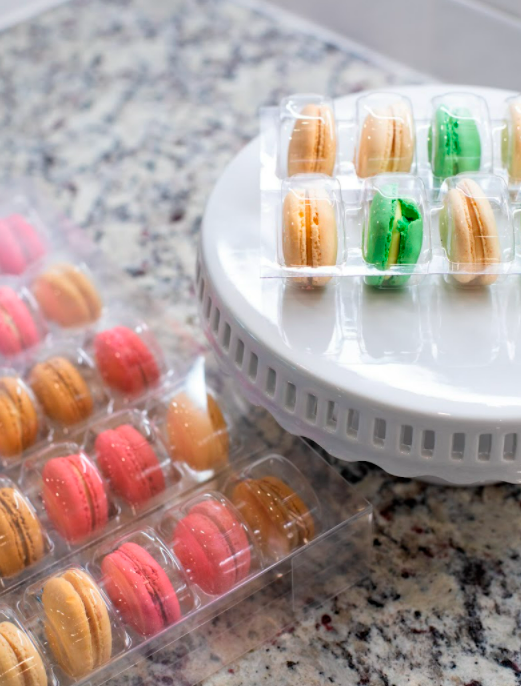 Macaron Bags/Boxes– Packaging specifically designed to hold and display French macarons. Packaging options available to hold 5-25 macarons (See photo)
Magnet Sleeves– Vinyl sleeves that hold a standard sized magnet for retail display. Great for souvenirs
Mats– Pre-cut mats available for photos and artwork in a variety of sizes, colors and thicknesses
Metallic Topper– 1.6 mil MOPP sheets with a colored front and a metallic silver back used for dressing up boxes. These sheets have a reusable adhesive on the back to stick to the top edge of the box. The extra material can then be gathered with a string, ribbon, or pre-tied bow to create a plume similar to a tissue coming out of a tissue box.
Metallized– A food safe polymer material coated with a thin layer of metal, usually aluminum. Offers high barrier properties from moisture, oxygen, and aroma.
Micro-Perforated– Bags that feature small perforations or holes in the material that allows the material to release scent, allow excess moisture to escape and keep products fresh for longer
Mounting Corners– Acid-free, self-adhesive corners that adhere artwork and photography to backing/foam board without the sticky mess of glue.
Mounting Tape– tape that is safe and convenient to use to mount prints or artwork to backing/foam board
N
No Flap Bags– bags or sleeves that do not feature a flap or an adhesive closure (bag is sealed on 3 sides).
O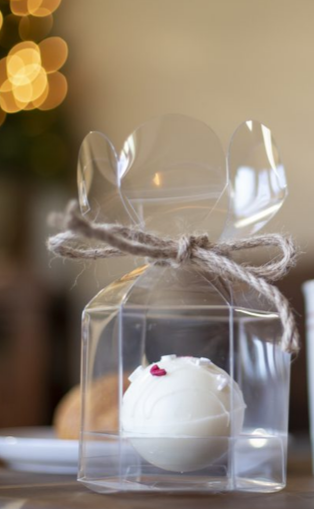 Ornate Boxes– Boxes in unique shapes that are ideal for packaging decorative food items, party favors, craft and hobby projects and more. Multiple sizes and shapes available (See photo)
Oven Bag– Afood safe bag that is heat resistant up to 220°C. Great for the oven, microwave, crock pot and more
Oxygen Transfer Rate– The measurement of the amount of oxygen that passes through a material over a period of time. Commonly used when determining the barrier level of a material.
P
PET– Polyethylene terephthalate material which is FDA approved for direct food contact
Photo Mounts– Clear sleeves that can be adhered to the back of photos, in albums, or to the back of certificates of authenticity. Acid and lignin free for photo storage and archiving
Pillow Boxes– Boxes that fold to create a "pillow" effect. This can turn dull packaging into a unique packaging option. (See photo)
PLA – Stands for polylactic acid or polylactide which is a biodegradable and bioactive thermoplastic aliphatic polyester derived from renewable resources, such as corn starch (in the United States and Canada), tapioca roots, chips or starch (mostly in Asia), or sugarcane (in the rest of the world). (Source: Wikipedia)
Polyethylene– Known by the abbreviation PE, material that is most commonly used in plastic bags.
Polypropylene– Known by the abbreviation PP, material that has a higher clarity than polyethylene
Poly Tubing– A soft plastic packaging that is ideal for poster sleeves and other items that are sold rolled up
Pop-Up Tubes– These tubes ship flat and easily pop-up for assembly. Available in various shapes and sizes, these tubes can be heat sealed with a handheld heat and sonic sealer.
Post-Consumer Recycled– Also known as PCR refers to products that were once another item and have since been recycled and turned into a reusable form.
Premium Bags– Our standard clear bags made from a thicker and stronger material and stronger side seams
Produce Bags– Zipper handled bags with vent holes. Ideal for fruits and vegetables.
Protective Closure Bags– Bags that feature a resealable adhesive located on the body of the bag, not the flap to prevent contents from coming into contact with the adhesive
PVA– Polyvinyl Alcohol is a non-toxic material that can ultimately be broken down into carbon dioxide and water into the natural cycle
PVC– Polyvinyl chloride material used for non-food related packaging. Archival quality.
Q
Quad Seal– A four-sided gusset that allows the base of the bag to mimic a box to offer a sturdy foundation
R
Resealable Adhesive– Adhesive strip that allows for opening and closing multiple times without losing adhesive ability
Rice Paper– Material that has a unique fiber pattern and textured feel. When used for bags, usually lined with a poly material to keep products inside fresh. (See photo)
Rigid Mailers– White chipboard mailers used to protect art, photos, documents and more during shipping or mailing. Available in two weights, heavy (28pt) or light (18pt)
S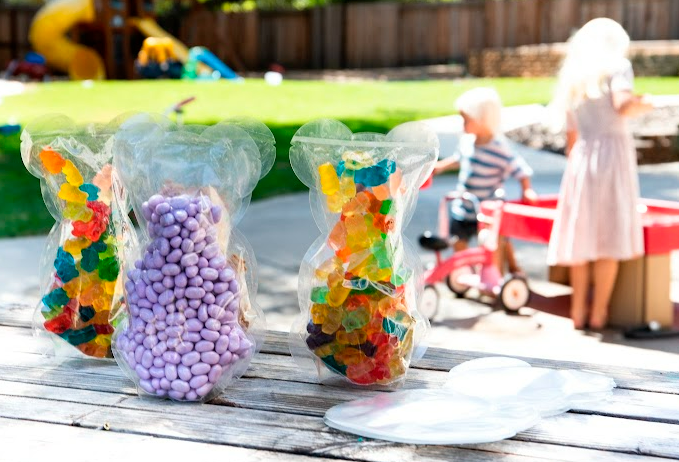 Seasonal Pouches– Stand-up pouches designed with different prints and windows for various holidays and occasions (See photo)
Shaped Pouches– Stand-up pouches manufactured in unique shapes and prints (including a bear shape, gumball machine, apothecary jar, clamp lids, coffee cup, mason jar, and popcorn bag). (See photo)
Stand Up Pouch– A food safe bag that is constructed with a self-supporting pouch design that allows the bag to stand by itself when filled. Available in different materials, sizes and colors
Static Shielding– A transparent metallic bag that is static electricity resistant. Made from a 4-layer construction and used for packaging sensitive electronics and more. Available open-ended or with a resealable zip closure.
Suffocation Warning– Resealable bags that come with a pre-printed suffocation warning in 3 languages. ClearBags brand suffocation warning bags are Amazon FBA complaint.
T
Tamper Resistant– A type of bag that doesn't feature tear notches or resealable adhesive for easy opening, which adds an extra child safety measure
Tear Notches– Small notches located at the top of a bag that allows for easy opening once heat sealed for a secure closure
Truffle Boxes– Boxes designed specially to hold chocolates and truffles, comes with a clear insert to make loading candies quick and easy
Tubes– A flexible packaging option great for retail use, food products and packaging gifts. Set includes two thermoform lids for a secure closure. Multiple shapes available, ships and stores flat. (See photo)
Two-Piece Folding Boxes– Boxes that are ideal for packaging greeting cards or photographs. Multiple sizes and colors available. Slip covers and box tops sold separately
U
V
Value Bags– Economy clear bags that are durable, look professional and provide protection. Bags are 1.2 mil (vs the standard 1.6 mil) and made with acid and lignin free material
Value Boxes–Economy clear boxes that are made from a 10 mil material versus our standard 12mil
Vellum– Translucent and frosted material that allows the contents to be seen through the material
Vinyl– A strong, crystal clear material that provides protection to products. Great for packaging sharp or pointed products
Vinyl Stretch Loop– A vinyl flat band that is used to wrap, decorate and secure closure to boxes. Multiple sizes and colors available
VMPET– Vacuum Metallized PET is a metallized PET material that offers a high barrier to light and oxygen. Provides a smoother appearance and more flexible material than aluminum-lined materials.
W
Water Soluble Bag– Retail Handle Bags made from PVA material that are specifically designed to degrade in hot water at 149 degrees Fahrenheit. They are environmentally friendly and non-toxic.
Water Tight– Bags that are made from an exclusive PE and Metallocene blend of materials that provides the strongest seams available
X
Y
Z
Zipper Closures– Bags that feature a zipper to provide an airtight closure and to help seal out the elements. We offer standard zipper bags, zipper pouches and sliding zipper bags