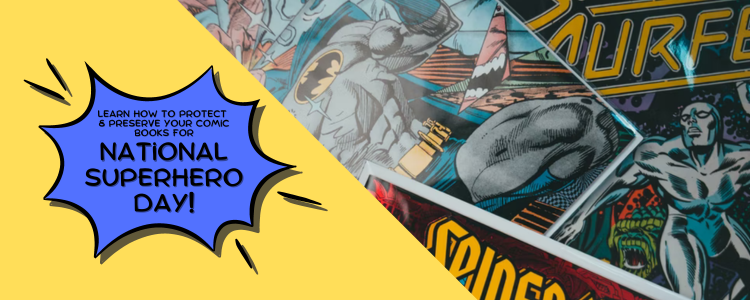 Superheroes use their supernatural gifts and powers to fight off evil villains, intergalactic invaders, and keep the galaxy safe! National Superhero Day, which was founded in 1995 by Marvel Comics, is an opportunity for superhero fanatics, artists, movie buffs, and comic book collectors to celebrate their favorite heroes.
One of the most classic ways to keep up on your favorite Superhero's adventures is through comic books.
Serious comic book collectors know that when it comes to value, condition and preservation are key. Durable bags and backing boards will not only preserve your collection, but also provide a stunning display to showcase your most cherished titles. Make sure that when your favorite superheroes need your protection, you know what to do.
Engineered for Protection
Our comic book bags are designed to hold and protect your favorite comic books and can accommodate backing board for extra stability. Whether you are protecting your CGC graded comics or your childhood collection, these are the clearest bags available today.
Protect Your Heroes With Long-Term Storage
Because of the nature of their design, comic books will never exactly be "sturdy". Even the newest editions of comic books are made in a similar fashion to how they were made originally- thin, delicate pages with original lettering and hand-drawn art that are stapled together. These comics have virtually no protection from the outside elements and are prone to become yellow, brittle, folded, ripped, or torn with time.
Made of archival-quality polypropylene, our Crystal Clear Bags™ will keep your comic books well protected for years to come. Paired with 100% recycled fiber, 4-ply backing boards, your comic books can stay in pristine shape in storage or on display.
Keep your favorite superhero's stories alive for generations to read and enjoy with quality packaging materials.
Two Sizes and Styles
Just how superheroes come in various sizes (from Ant Man to the Incredible Hulk), comic books come in different sizes. Here at ClearBags, we offer two sizes of bags and backing boards to both Modern Era comics (from the 1980s to now) as well as Golden & Silver Era sizes (dating before the 1980s).
Our popular Crystal Clear, archival-quality bags come with two flap designs: a self-sealing adhesive strip or plan non-adhesive open flap. The adhesive comes with the sticky strip on the body of the bag instead of the flap, which we refer to as a "protective closure". This allows you to easily insert and remove comic books without coming into contact with the adhesive, keeping your comic book from snagging or tearing as you position issues within the bag. For those who prefer to use tape or keep their bags unsealed, the non-adhesive flap bags are the perfect choice!
Not sure what size you need? Check out the measurements chart below for item numbers, sizing, and styles. Or, you can give us a call and we'll be happy to provide samples upon request to try out before ordering.
MODERN ERA COMICS: 1980s – New Comics
| | | | |
| --- | --- | --- | --- |
| Item | Style | Size | Thickness |
| COMIC1NG | No Adhesive | 7 1/8″ x 10 5/8″ | 1.6 mil |
| COMIC1PC | Self-Sealing (Protective Closure) | 6 11/16″ x 10 3/16″ | 4 Ply |