Featured Customer: Just Plain 'Ola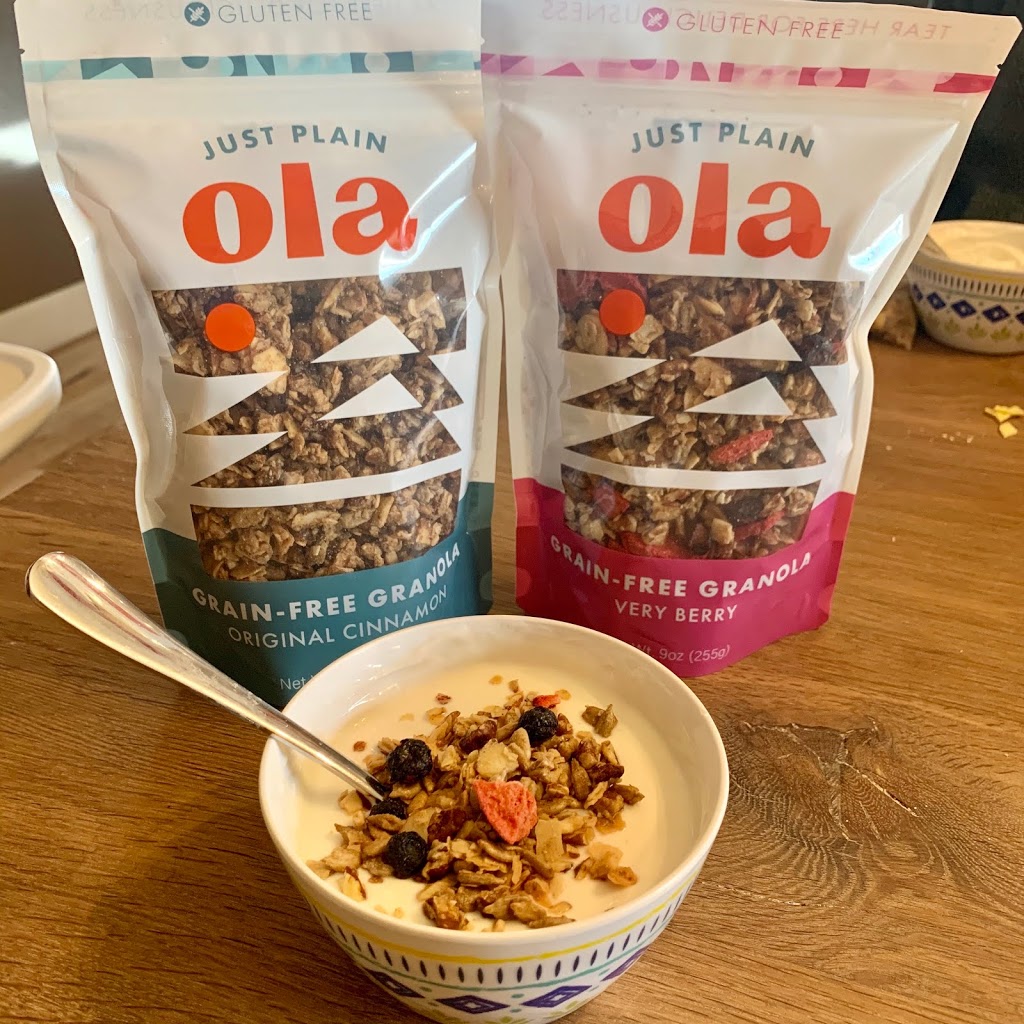 Granola is a super versatile and delicious ingredient when making anything from trail mix to chocolate chip cookies, but it has always been a little more tricky to use for people on paleo or gluten-free diets…. until now! Our featured customer this month Just Plain 'Ola aims to solve that problem with grain-free granola made with all-natural ingredients.
Tell us a little about your company:
Just Plain 'Ola is a grain-free granola made with all natural ingredients based in Fort Collins, CO. We started in the summer of 2017 selling at Farmers' Markets. The recipe was developed by Hannah Zwakenberg while seeking to create a snack that was delicious on its own but also met some of her friends' dietary restrictions (particularly gluten-free). When describing the product, she once said "it's like granola without the 'gran' (grain), so I guess it's just plain 'ola." The name is also a tribute to Hannah's late grandmother – Ola, who was the kind of lady who never stopped exploring and was able to find beauty and adventure wherever she looked. We want to honor her by bringing that same spirit to our products and to the world.
What makes your product unique?
This isn't just any granola, it's a delicious combination of natural ingredients like nuts and seeds, sweetened to perfection and chock full of the nutrients you want without all the weird ingredients you don't. It's grain-free, gluten-free, paleo and vegan. We currently have three flavors: original cinnamon, very berry and pumpkin spice. Try it on your yogurt at breakfast, pack it in your kid's lunch box or take some on the trail for your next adventure. We worked hard to make Just Plain 'Ola the kind of healthy snack you eat because you want to, not because you're supposed to.
How do you package your products and what ClearBagsⓇ products do you use?
We are currently using custom printed ClearBags 5 3/4 x 3 1/3 x 9 1/16 4mil zipper stand up pouches with rounded corners and a tear notch. We fill and heat-seal these bags at a commercial kitchen in Fort Collins, CO.
Where do you sell your products?
We sell our product through our online store (
www.justplainola.com
) and at local stores and farmers' markets in Northern Colorado.
How long have you been working with ClearBags and how does ClearBags help you succeed?
When we first looked into selling our homemade snack, we went to a local farmers' market and asked if we could sell there. The woman who ran the market said "sounds great – we'll see you next Saturday!" We scrambled to figure out pricing, marketing, how much to bake, where to get a table and tent, etc. It was a crazy week for sure! We ended up buying cellophane bags from  a local store and just sealed them together with a sticker which had our logo on it. We knew that solution couldn't last because it didn't actually seal the product. After comparing multiple bag producers – locally and online – we settled on ClearBags due to their products, prices and customer service. We've used ClearBags for about two years now and our bags have gone through four iterations – but we've finally landed on the pre-printed bags that have reduced our unit price and eliminated all the labor of sticking labels. Now we feel like we can truly scale the business.
What one piece of packaging advice would you give to other business owners?
If you are confident in your product and you want to scale your business – make the investment to create custom pre-printed bags as soon as possible. We spent hours and hours printing our own labels at home, then paying for printed labels that we stuck to the bags ourselves. It worked for a while but we couldn't really scale because of how labor intensive it was. The custom pre-printed bags ended up being significantly cheaper for us per unit, have eliminated labor costs, and they are much more eye-catching and professional.
How can people connect with you?
Follow us on Instagram and Facebook: @justplainola. Try a bag by purchasing through our online store at:
www.justplainola.com
. Thanks!
To show our appreciation to the ClearBags community, we're offering a promo for 10% your first order from now until the end of February when you use code CLEARBAGS1 at checkout.