IGTV: Guide to Matte Gold Stand Up Pouches
We recently filmed an IGTV video about our Matte Gold Standing Up Zipper Pouches, which you can view here.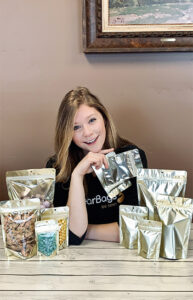 These come in 2 styles with 4 sizes in each style. You can choose a pouch with a clear front, or a fully metallized version. All of these pouches are heat sealable and feature a resealable zipper as well.
They include a tear notch on either side and a hang hole at the top. If you choose not to hang your pouches, the hang hole can be used to attach tags or pre-tied bows.
The beautiful matte finish of these pouches make them feel special and luxurious. These food safe pouches keep out moisture and seal in aromas and flavors. The fully metallized versions prevent light exposure as well.
These are a good choice if you want your product to look great and be protected.
Check out our other IGTV videos and blogs for more tips and guidance!