How to Package Trail Mix, Nuts & Dried Fruit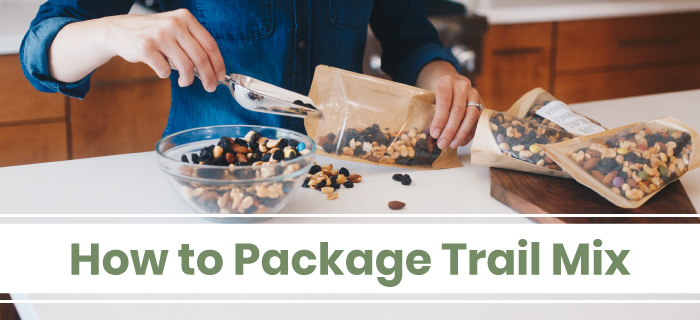 Trail mix is a snack mix typically containing a combination of granola, dried fruit, nuts, and sometimes, well in the best cases, chocolate! Although originally developed as a food to be taken along on hikes to provide boosts of energy in an easy to carry fashion, it has become popular with all groups. Moms, kids and lunch week packers adore the snack because it is quick, portable, nutritious, and doesn't need refrigeration. Fun fact: Native Americans have been eating something similar to our modern day trail mix, but with the inclusion of buffalo meat, for thousands of years.
At ClearBags, we have a selection of packaging options in various sizes and styles perfect for Trail Mix, Nuts, and Dried Fruit. Some of the easiest ways to package your perfect mix include stand up zipper pouches, clear zipper bags, and hanging zipper barrier bags.
Stand Up Zipper Pouches
We're just nutty about our Stand Up Zipper Pouches! For those selling their own mixes, these pouches provide a great presentation. They stand up on their own, take up minimal shelf space, and maintain excellent freshness. Multiple barriers means your trail mix is ready for next week's hike, or that long road trip. We have so many types to choose from, all with different benefits – don't hesitate to ask us for details on each one!
Our personal favorites!! More shapes and sizes are available.
○ ZBGM3MB – high barrier to lock in freshness
○ ZBGB2TL – your go-to snack packaging, with tear notches and a resealable zipper, high moisture and oxygen barrier keeps products fresh for longer
○ ZBGR7WH – unique fiber pattern and a crystal clear window
○ ZBGKC2 – ideal for single servings and lunch packs
Zipper Bags
For a quick and easy option, our Zipper Bags come in a range of sizes from tiny 2 inch widths, to a whopping 24 inches long. Those big ones will keep you going on one mammoth of a trail! These bags are made from Low-density polyethylene (LDPE – to those in the know) which provides a clear and food safe option. These bags are an economical option, perfect hitting the trail instead of the supermarket shelves.
Most popular options. More shapes and sizes are available.
○ 2PE44 – great for small snack size
○ 2PE66 – much like a classic sandwich zip bag
○ 2PE77 – quart size, a good bear size portion
○ 2PE1012 – gallon size for sharing with the whole crew
Hanging Zipper Barrier Bag
Another favorite for the retail crowd, our hanging zipper food pouches are a classic choice. Also popular with jerky customers, these high barrier bags ensure flavors and scents are contained until snack time. Fill this bag with nuts, candy, dried fruit, beef jerky, chocolate chips, and more. Seal them by hand, or if you're feeling fancy, they can be heat sealed for complete freshness and tamper evidence. They come in over 30 sizes and feature a convenient hole at the top to maximize hanging space.
Suggested products.
○ Hanging Zipper Barrier Bags w/Tear Notches: HZB35, HZB46, HZB33
○ Backed Metallized Hanging Zipper Barrier Bags: HZBB9CB, HZBB4S, HZBB3CW
○ Metallized Hanging Zipper Barrier Bags: HZBB3MB, HZBB5MBL, HZBB3MG
Tackle Box
Want to think outside the box? Our new tackle boxes are a non-traditional option. Pinterest lovers may already know this secret, but these are ideal for a road trip snack pack? Snack prep burnout? Mix it up and give each kid his or her own ready to eat tray with their favorite combinations. When all the chocolates are gone and just the raisins are left, our snap on lids will keep those safe…for later enjoyment of course. Different cavity quantities allow for just the right serving sizes.
Most popular options. Smaller and larger sizes are available.
Candy Tackle Boxes come in 4 sizes:
Visit our website and see which other products can work with your trail mix, nuts, and dried fruits. We have hundreds of products to choose from and we're just a call away to advise the best route for you! Happy Trails!