Featured Customer: Sweet Girl Cookies

Tell us a little about your company:
Sweet Girl Cookies is a family-owned business from Alec and Nancy Felder, that is based in Charlotte, NC. We launched our company in 2014 and chose the name Sweet Girl Cookies to honor our daughter who we affectionately call "Sweet Girl". Now, six years later, Sweet Girl Cookies has grown from a small two-person operation to a staff of 15+ during the holiday season. We use only the best ingredients we can find and will never compromise on quality or customer service. Central to our company is a dedication to going above and beyond to be sure customers are thrilled with their Sweet Girl Cookies.
What makes your product unique?
We take the time to source premium ingredients without artificial colors or flavors – even our rainbow sprinkles are made with vegetable colorants and no artificial dyes. Our cookies are made from King Arthur Flour, pure butter, Ghirardelli chocolate, Valrhona cocoa powder, pure vanilla and aluminum-free baking powder.
When friends and family kept telling us these are the best cookies I've ever had we knew that we were on to something great. We couldn't keep our little bites of heaven to ourselves. We just had to share them with cookie lovers everywhere!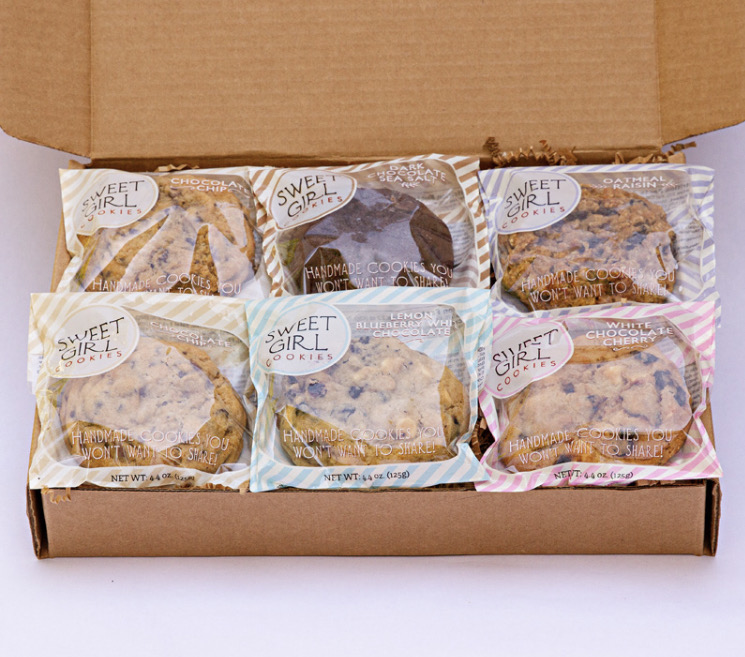 How do you package your products and what ClearBagsⓇ products do you use?
We exclusively use ClearBags for all our cookie packaging. We use Crystal Clear Bags with tape flaps for our individually wrapped cookies (B65W & BD1) and Heat Sealable Flat Bottom Gusset Bags (FG17).
Over the past year we have moved to pre-printed bags for both B65W and FG17. This has made a significant improvement in the presentation of our products and in saving labor. We are in the process of having additional flavors/products designed and printed.
What one piece of packaging advice would you give to other business owners?
Try lots of different bag sizes/options before making a final choice. Live with plain bags for a while to be sure they work for you before taking the leap to printed bags.
How can people connect with you?
Website www.sweetgirlcookies.com
Facebook: sweetgirlcookies
Instagram: sweetgirlcookies_