IGTV: Halloween Seasonal Pouches
On IGTV this week we are so excited to showcase Halloween Seasonal Shaped Pouches. Watch this week's IGTV here.
Just in time for Halloween, we have three new seasonal stand up pouches in stock. These pouches are perfect for packaging candy, cookies, baked goodies, small treats, crafts, and more.
These seasonal pouches all measure 5 ⅛" x 3 ⅛" x 8 ⅛" and hold 4oz of dry goods. They are made from 4.0 mil food safe materials, designed for direct food contact. They feature an airtight, resealable zipper to help keep contents fresh. If you are planning to use these in the retail environment, these pouches can be heat sealed using a standard hand sealer. Tear notches are located above the zipper to allow customers to open the bag with ease after purchase.
Whether you are using these to give out holiday treats to friends or family, or using them for trick-or-treaters, these seasonal bags are sure to be a hit!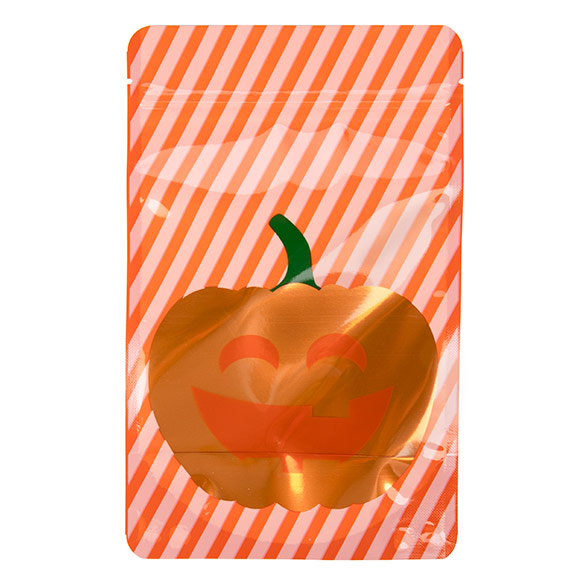 Halloween Seasonal Pouches: Jack O' Lantern Pumpkin
First up is our Pumpkin seasonal pouch. It features a clear window on the front in the shape of a pumpkin with an orange jack o' lantern face printed on it. The two tone orange stripes run diagonally over the front of the pouch. The back and bottom are a solid traditional halloween orange color.
Once you load the product inside this standing pouch, the face of the jack o' lantern really shows.
Item Number: ZBGW3P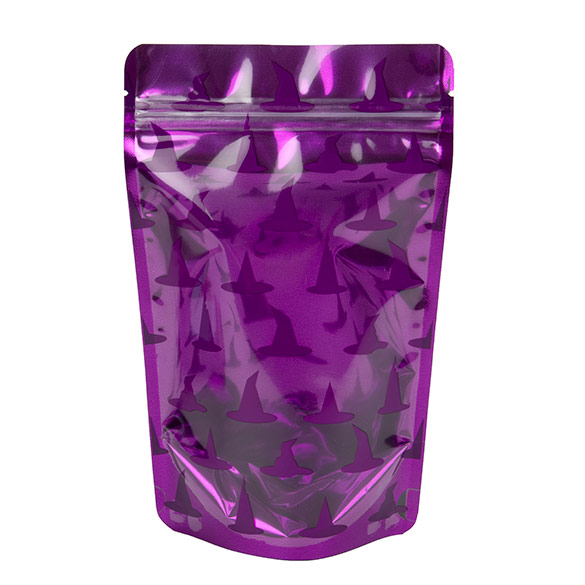 Wacky Witch Hats
Next in our line of pouches designed for Halloween is our Witches Hats. This pouch features a clear front panel that is decorated with different shaped purple witches hats. The back and bottom of this pouch are solid purple.
The opaque purple back panel is a great place to add a label with a Halloween joke, product information, nutrition facts, and more.
Item Number: ZBGW3HA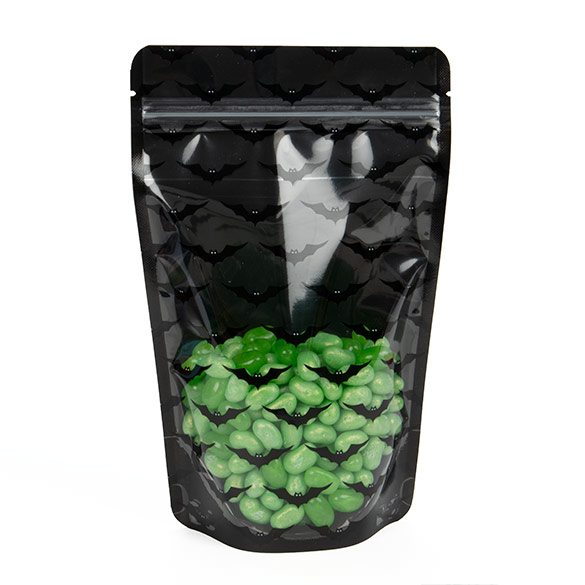 Spooky Black Bats
Last but certainly not least is our Black Bats. The front panel of this bag is covered in black bats. A brightly colored candy or toy placed inside the bag really makes these bats pop right off the packaging. The back panel and bottom are solid black.
Item Number: ZBGW3B
To request a free sample of a pouch that you saw in the video, please click on this link: https://www.clearbags.com/sample
To shop all of our Seasonal & Shaped Pouches, click here.
For more tips and tricks on how to use our products, watch our IGTV, and check out our blogs and other videos!