As humans, we rely on our senses; we can touch, hear, taste, see, and smell. This time of year our sense of smell is electrified as it is inundated with yummy smells such as pumpkin spice, apple pie, fall breeze, rain, cinnamon, and comforting smells from home. People fill their homes with familiar smells that remind them of fond memories from seasons past. Wax melts are becoming increasingly popular every year. Because they burn slowly, they last longer than the average candle. ClearBags offers various ways to package these enticing wax melts that fill homes with wonderful scents.
Zipper Bags
Zipper bags are a popular choice for packaging wax melts. The zipper seals in aromatic scents which greet customers as they open their package. The best zipper bags for wax melts are the 4 mil Polyethylene Zipper Bags and the Hanging Zipper Barrier Bags. If you are looking for a small, clear product (possibly for samples), our HZB33 is a 3" x 3" bag that lets your product shine on its own with crystal clear packaging that can also hang in a retail setting.
If you would like a zipper bag option that can stand on it's own, try our Stand Up Pouches. These pouches come in a variety of fun choices, colors, and sizes. Our item number ZBGKC1 is perfect for fall and comes with a clear front window to display beautiful wax melts or wax bark.
How to Package Wax Melts with Boxes
Do you have wax melts that need to be displayed individually? Maybe you have different shapes that you would like packaged together in a box? We have options for you! Our candy boxes aren't just for candy; they work great for wax melts as well. Try our Candy Tackle Boxes. These boxes come in multiple sizes and are available in clear or with a kraft slipcover option. The patent pending lid snaps onto the base to help lock in scents. Each cavity on the Candy Tackle Boxes is 1 1/2″ in size and is available in 4, 6, 9 and 12 count options. They showcase each wax melt individually and give each one the attention it deserves, making your presentation stand out as a retailer.
We also carry Artisan Candy Box Sets that are available in clear and kraft. These boxes come with little mini thermoform trays to make individual wax melts. The cavities for these candy boxes are about 1″ square. We have options to hold 4, 6, 8, or 12 candies.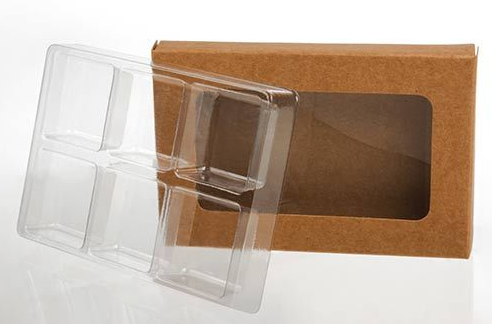 If you have different shapes and sizes, try our Two Piece Boxes. When using these boxes, you have choices to make. First you choose the color of your paper box bottom – red, gold, silver, bronze, black, white, or kraft. Then you choose between a clear slipcover or a clear box top. These boxes can accommodate many different shapes and sizes and create a nice high-end look.
*Note: Box bottoms and box tops are sold separately, but both are shipped and stored flat to save money and precious storage space.
Paper Window Boxes are another option. Make sure to select the ones that come with a clear, archival sheet glued to the inside of the cut-out window to showcase your beautiful wax melts.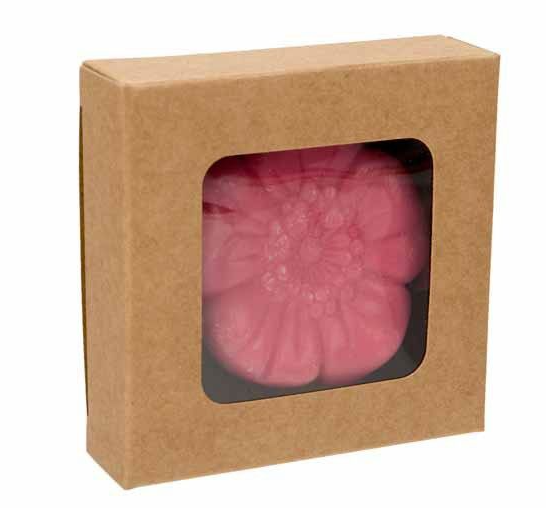 How to Package Wax Melts with Clear Bags
Clear options…does ClearBags have clear options? YES! Clear is a color that works year round, making it easy to stock up and even get price cuts with bulk ordering. Add a pre-tied bow to the top of our Flat Bottom Gusset Bags or Polypropylene Flat Bags, and your product looks just as festive as ever. Gusset bag options tied up with strings; these are a few of my favorite things?! Our Gusset Bags are always gift ready and are a favorite among buyers and receivers. Polypropylene Flat Bags get the job done and are extremely inexpensive. Item number FP138 is our 3" x 8" bag that starts at only $1.29 for a pack of 100. Flap Seal Bags come in hundreds of sizes and have a self adhesive strip on the flap of the bag, making it easy to adjust to your product. These bags would also be a quick, easy option to wrap samples in as well.
Glassines
Glassine is naturally, air, grease, and water resistant, so the frosty look of our envelopes will not leave any possible unwanted residue from wax melts. The envelopes come open-ended with a fold over flap, no adhesive. We also offer glassine sheets; these can come in handy when displaying wax melts creatively, on a tray, or having unpackaged ones out for customers to smell, and handle as a sample.
Clam Shells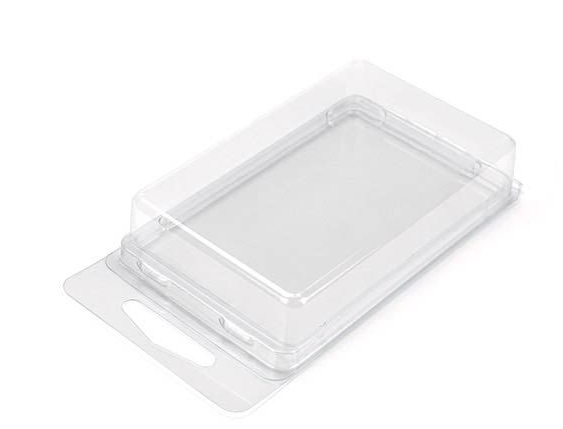 Clamshell packaging adds a more protective layer to your wax melts or wax bark. It can help them from breaking and from curious little hands getting a little too curious with a product that has not yet been purchased. The clamshell closure is durable and easy to work with. We recommend using the delta hang hole for hanging your product.
Just like our sense of smell can remind us of holidays and seasons past, our sight draws us close to discover what may lay ahead in the future. Let us help you to always be seen with our crystal clear packaging. Be Seen with ClearBags!