How to Package Hot Cocoa Bombs
2020 has been the year of many things, but we are ending the year right by making it the Year of the Hot Cocoa Bombs!
Hot Cocoa Bombs come in a variety of flavors, colors, and sizes. Whether you are making these for yourself, your friends, or your business, packaging is essential to the delivery. Here are some of our favorite packaging options….
Clear Boxes
ClearBags carries a variety of Clear Boxes that hold a single Hot Cocoa Bomb.
Mini Bombs:
For mini bombs the size of a cake pop, try our 2" cube box, PLB104.
Standard Bombs:
For standard bombs measuring between 2 – 2 ½" in size, we recommend the PLB58. This box is 3" x 3" x 3" and fits a single standard hot cocoa bomb with ease.
Another option for 2 ½" to 3" size cocoa bombs is the PLB105, which measures 3 ½" x 3 ½" x 3 ½". This box allows plenty of room for a single bomb that is loaded up with marshmallows, pretzels, sprinkles, and other embellishments.
Larger Bombs:
We also carry a 4" cube, the FPLB56, for 3 ½" bombs or those that are super embellished and need extra room for all the goodies piled on top.
Clear Ornate Boxes (Single and Multiple Hot Cocoa Bombs)
If you are looking for a unique box to package your hot cocoa bombs, we have some beautiful options to choose from.
3 Sided Window Boxes – These boxes are available in three sizes, all of which are perfect for a single Hot Cocoa Bomb depending on the size of your creation. They are available in white and kraft.
Handle Boxes – For larger or overly embellished cocoa bombs, we recommend the handle boxes. These 4" boxes are available in clear, white, and kraft. The take out style top is great for picks up and deliveries.
These Handle Boxes are also available with a cupcake style insert that helps keep the cocoa bomb from rolling or spinning around in the box. For this option, we recommend:
If you are looking to package 2 cocoa bombs, we have boxes for that too.
The 2 bomb boxes are also available with a cupcake style insert for added stability. For this option, order the following:
Hexagon Box – This box is available in clear or frost and adds an extra special touch to your packaging. It measures 3 ½" x 3 ½" x 3", making it work well for standard hot cocoa bombs.
Tubes – Pop-Up Tubes work well for stacking multiple hot cocoa bombs or try packaging one hot cocoa bomb and add in other special treats. Tubes are easy to assemble and come in round and hexagonal shapes to hold cocoa bombs.
Round Tubes
Hexagon Tube
Shaped Boxes– We also carry shaped boxes like our Flower Top and Twist Top boxes that are great for a single Hot Cocoa Bomb. These packaging options are perfect for giving as a gift!
Crystal Clear Bags
If a box isn't the packaging solution for you, we also carry Crystal Clear Bags in a variety of styles. These bags work well for packaging both single and multiple Hot Cocoa Bombs.
Round Bottom Gusset Bags – These bags feature a round paper bottom that provides stability to keep the bag upright. Try packaging a single bomb or multiple bombs in each bag. When packaging the bombs, if the bag is taller than you need, simply cut the top off the bag to the desired height.
Flat Bottom Gusset Bags -These bags open like a lunch sack and are great for packaging single and multiple cocoa bombs. They are available with and without a white paper insert in the bottom of the bag. They also are available as a set with a cupcake style insert.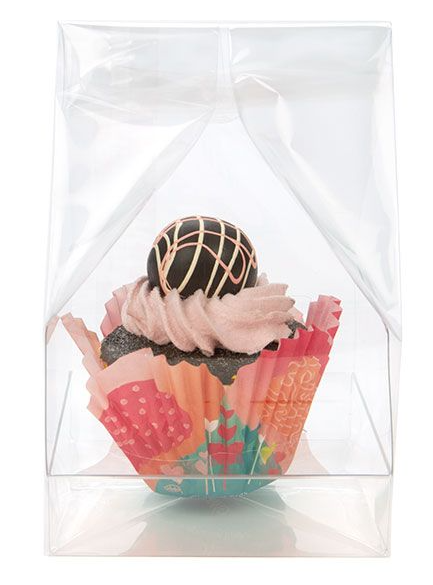 Single Bombs:
Multiple Bombs:
No matter how you choose to package your Hot Cocoa Bombs, we can't wait to see them. Keep tagging us on Instagram and Facebook. We love to see your creativity!
Instagram @ClearBags
Facebook @ClearBags
All Hot cocoa bombs are not created equal; please don't hesitate to ask us for a free sample to make sure you get the best packaging to fit your needs.
To request a sample, call us at 800-233-2630 or click here.