A Guide to Seasonal Pouches

What's your favorite holiday or season? Here at ClearBags we have packaging options for each of them! We have designed a full line of Seasonal Pouches that are ideal for packaging items for retail, friends, and family.
Best part of most holidays? The snacks! Don't worry, we've got you covered; our pouches are made from food safe materials and are designed to stand on their own when filled…really, really, filled. For items you won't be consuming in one sitting, (hey, no judgment) pouches feature an airtight resealable zipper so everything stays fresh. For those who are business minded, these pouches can be heat sealed for a tamper resistant closure, ideal for your retail setting. Tear notches above the zipper allow your customers an easy opening after purchase…All the better for gobbling down those turkey shaped chocolates.
These festive favorites measure 5 ⅛" x 3 ⅛" x 8 ⅛" in size and are designed to hold about 4oz/113g of dry goods, but who's counting? The inside dimensions (usable space) are 4 ¾" x 2 ½" x 6 ⅝".
Valentine's Day
Our hearts (and warehouse shelves) are full of love for this holiday. To start, we have a simple kraft pouch that has a clear heart shaped window on the front. The heart is off centered, lending an artistic flair and providing a peek at the contents inside. Bright red, pink, and white candy really pops with the kraft material and are a sure way to say "Pick Me" this season. Item Number: ZBGW3KHT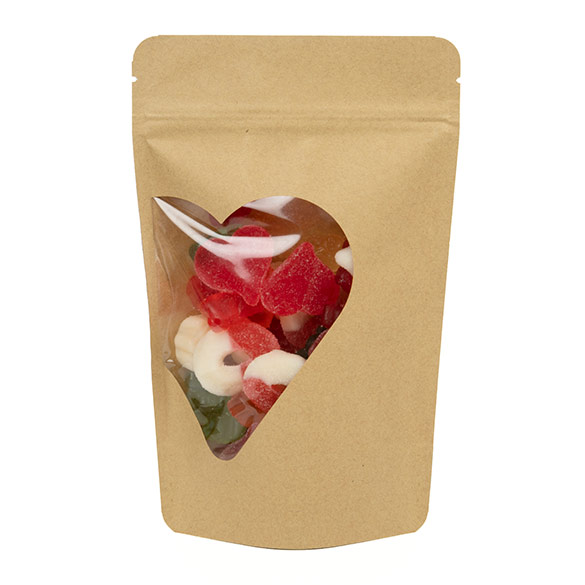 How about a little whimsy for the young at heart? This pouch features diagonal stripes in two shades of pink and five heart shaped clear windows on the front (because six really was just one too many). Fill'er up with candy, cookies, chocolates, and more. The back of the pouch is solid pink for a fun contrast with the stripes. Item number: ZBGW3HT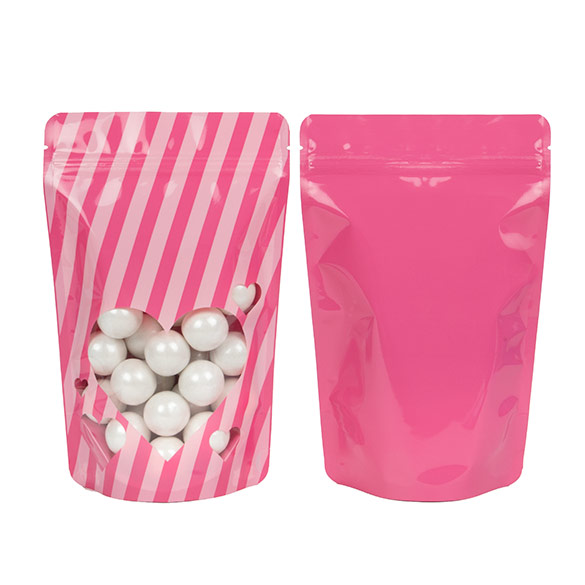 Coming Soon! We have two additional options coming soon. It has been said that opposites attract, and we would have to agree. These two bags complement one another with their contrasting designs. Try these bags out side by side on shelves for "his and her" goodies. The metallic mini hearts and extra large heart shaped window on the front of the bag get the point across, but to be sure we printed mini hearts on the back of the pouch as well. Item Numbers: ZBGSW3WH & ZBGSW3MH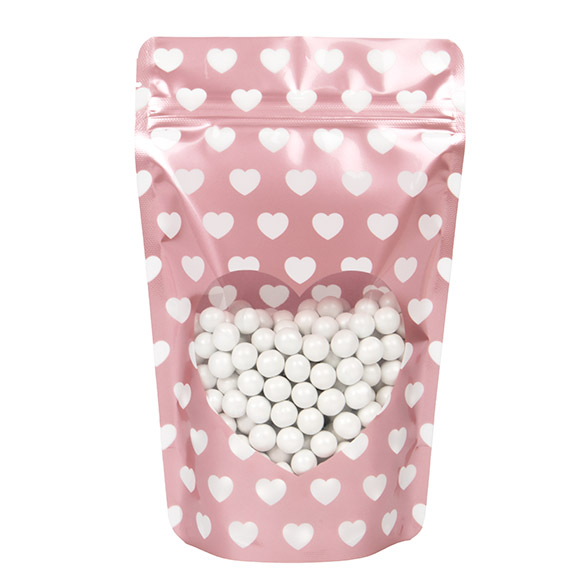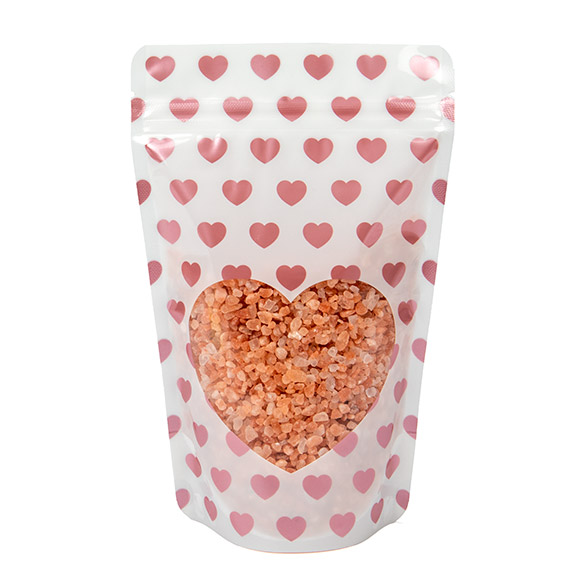 Easter
April showers will bring May flowers but ClearBags will throw in some seasonally themed pouches. Which one do you need more? Our Stand Up Pouches are the perfect way to package treats, cookies, candy, and chocolates to place inside an Easter basket. Springing into our product line are our Egg bags. No no, they don't actually hold eggs…although they sure could! There's no telling what the Easter bunny hid in these bags. Both pouches are rather revealing, with a clear front panel that features white printed Easter egg designs. There are a total of 5 unique eggs across the bottom of the bag. The inside and back panels of this pouch are solid pink or teal making it easy to stick within your desired theme. Item Numbers: ZBGW3PE & ZBGW3TE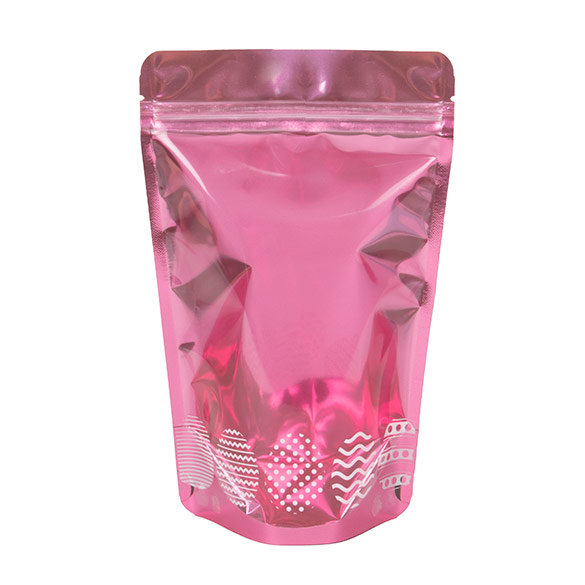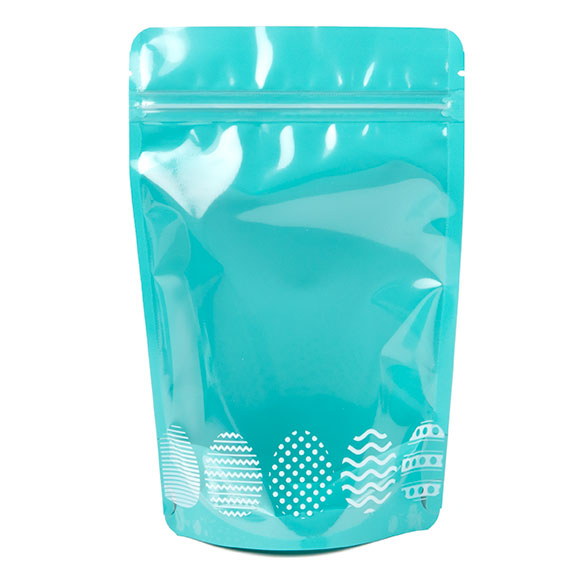 You've got to be hopping mad if you don't love to dye Easter eggs! We love them so much that our new Easter bags borrow a speckled egg design inspired from kitchen table adventures in egg dying. The pouches come in three fun colors with a clear window, egg shaped of course. The fun continues onto the back of these pouches with the speckled design. Coming soon! Item Numbers: ZBGSW3EP, ZBGSW3ER (Shown), & ZBGSW3EY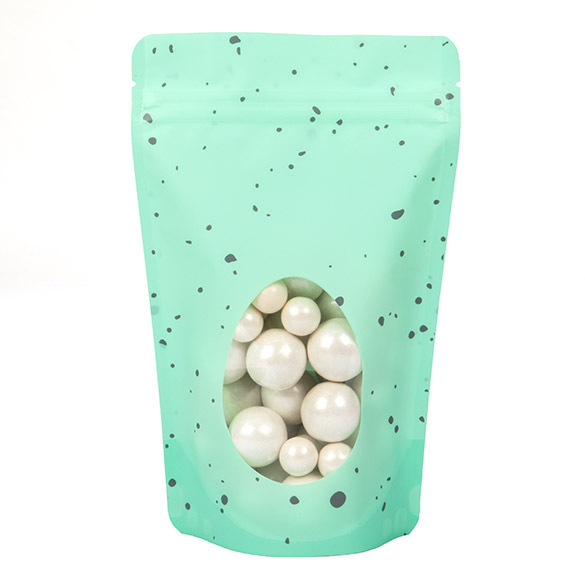 Spring into action with this next bag! This soft frosted pouch gives a glimpse at the goodies inside while featuring a "bloom" design in all the pastel colors. If you look closely, you can see that each petal just so happens to be egg shaped (a total and complete accident on our part). Coming Soon! Item Number: ZBGSW3BL
Halloween
Whether you are packaging tricks or treats, buying packaging shouldn't be scary! ClearBags has three festive options that are perfect for parties, handing out candy to trick or treaters, or selling your seasonal products. With zippered closure, treats can be loaded up and taken on the go to your next monster mash.
Ghouly Black Bats- The clear front panel of this favorite is covered in black bats. The bats will help your product fly off shelves! Filled with bright colored candy and cookies behind them, your product looks spectacularly spooky. To complete the mood, we kept the inside and back panels a solid, shiny, dare we say, magical, black. Item Number: ZBGW3B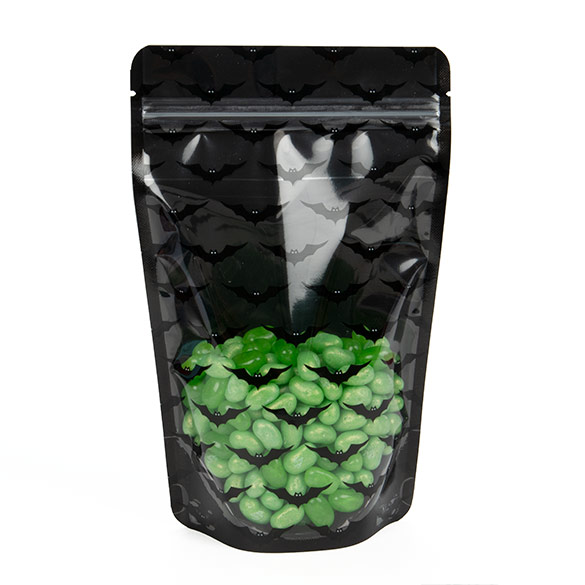 Wicked Witches Hats- Witches may hide among us, but these pouches were made to stand out. The clear front panel is printed with an assortment of purple witch hats in a perfect purple color to keep in line with the spooky vibes. Fill this one to the brim with chocolates, candy, and other treats (or tricks). The inside and back panels bolster the appearance with a solid shiny purple. Item Number: ZBGW3HA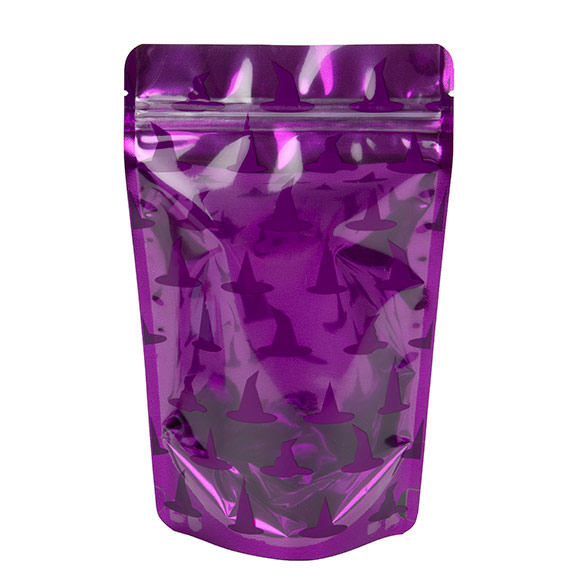 Jack-O-Lantern – Carving pumpkins is a staple for Halloween. Slashes of two toned orange stripes cut across the front while making way for a jack-o-lantern face. Candy corn, chocolates, and other goodies can fill this boy's head. This Jack is decidedly one dimensional; the back of the pouch is a solid orange. Item Number: ZBGW3P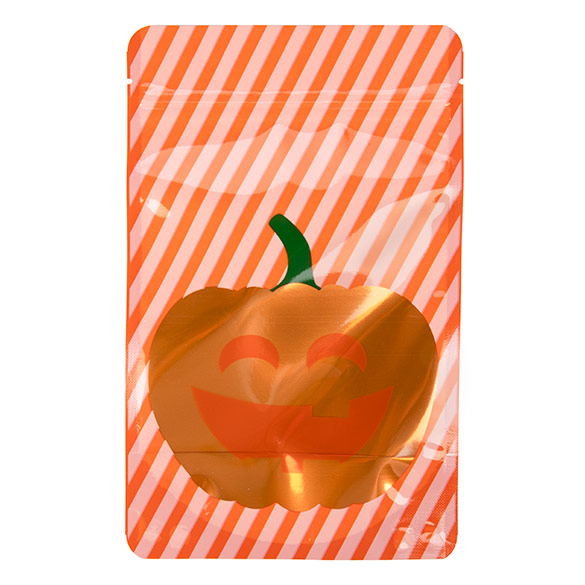 Christmas/Winter
The weather outside may be frightful but baking is so delightful; let ClearBags help you wrap it up. These wintery favorites are a perfect way to bundle up your creations and play Santa with friends and family. We present four options for the season that are sure to make spirits (and your sales) bright!
Oh Christmas Tree, Oh Christmas Tree – How lovely is your packaging? Be the star of the season with a tree shaped window to showcase your creative confections. Festive red and green candies are sure to pop in contrast against this lovely kraft pouch. A humble and unadorned kraft pouch is also the perfect way to remind your friends, family and customers that your cookies and crafts are made by hand. Let the product take center stage. Item Number: ZBGSW3KT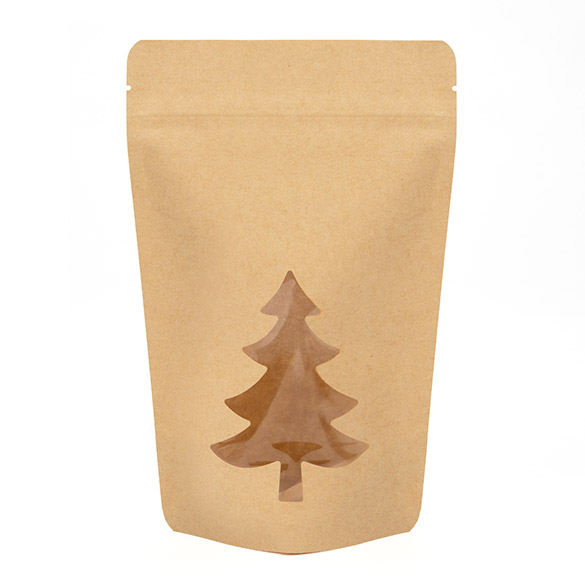 Holiday Ornaments- Decorating the tree isn't the only place you'll find ornaments this year. This rudolph-nose red colored pouch provides a large rectangular window to showcase your cookies or coal. The front is decked with 3 printed white ornaments. Each ornament is a uniquely different design, just like the items you will place inside. The back of the pouch is solid red with plenty of room for Christmas wish lists or just lists of ingredients…which although sometimes required is far less festive. Item Number: ZBGW3O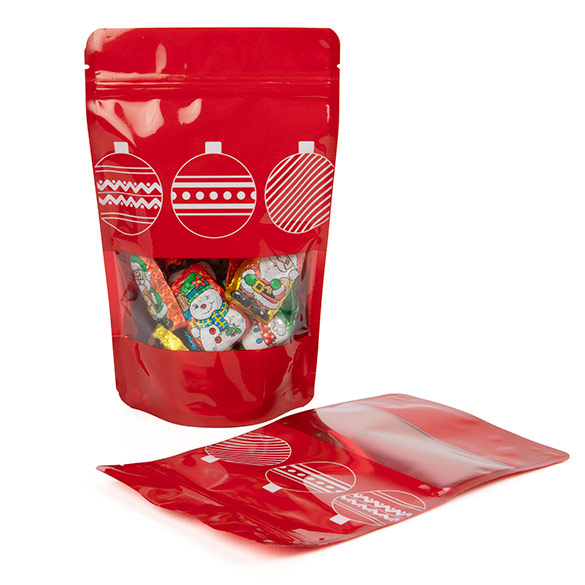 Tree Farm- O Christmas tree, what are you doing on my bags?! We thought the noble fir belonged in more places than just your living room! This icon of the winter season is printed on the front of a clear base, with a solid green back. These trees will hold up your cookies, hot cocoa mix, cinnamon sticks, or other seasonal favorites lending them the support they need. Item Number: ZBGW3T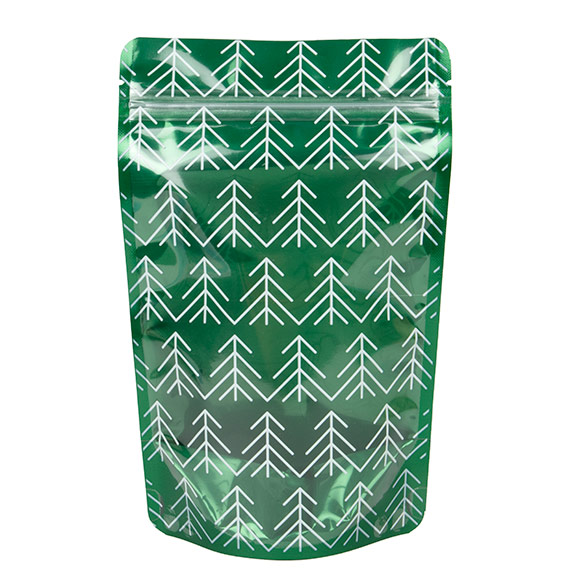 Let It Snow- Who doesn't love a white Christmas?! This wintery pouch has a clear front panel that features snowflakes of all shapes and sizes. The inside and back panels are solid blue to complete the winter wonderland feel. Pack in candy, flavored marshmallows, cookies, brownies, and more. Item Number: ZBGSW3S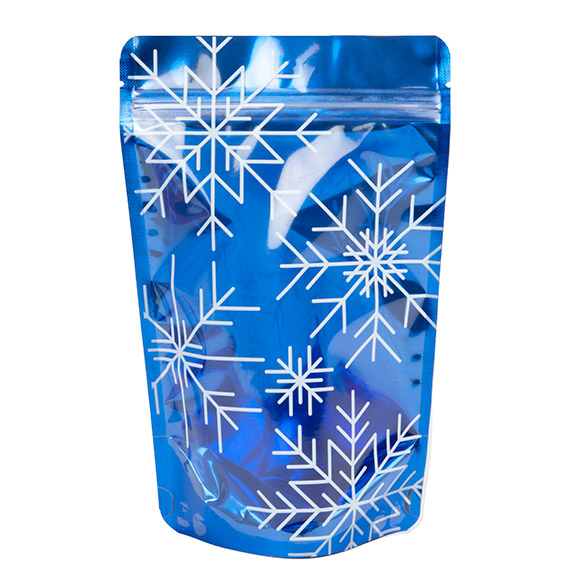 New Years Eve
Party Time- Hosting a New Years Eve party? You can never have too much silver and gold at a New Years party. These frosted bags are elegant and feature a "bloom" on the front in either silver or gold metallic ink. The countdown to purchase these bags is on! Coming soon! Item Numbers: ZBGSW3BS (Shown) & ZBGSW3BG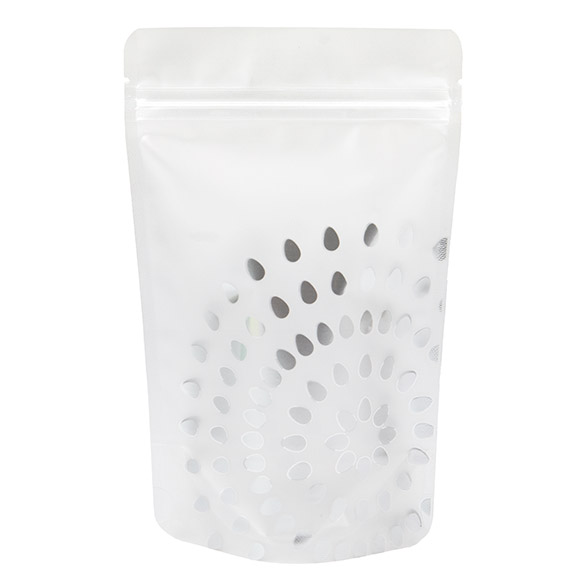 No matter the season or holiday, we have your packaging needs covered. We are always creating, developing and improving, with new products arriving all of the time. Please keep an eye on our New Products section of the website to avoid missing out on the latest and greatest!
Have a design that's just for your brand? We can make it! Scroll on over and fill out our Custom Packaging form.