A Guide to Shaped Pouches
Shaped Pouches are a great way to stand out! With a variety of styles and shapes, these pouches are perfect for events, parties, retail, gifts, and more!
Clamp Lid Jar Pouches
These cute Clamp Lid Jar Pouches come in 3 different sizes or a combination pack of all 3. All 3 sizes come with a printed clamp jar design with a blue seal ring. The pouches are made from food safe 5.5 mil material and have a frosted finish to give the appearance of a real glass clamp jar. These pouches have a resealable zipper and can be heat sealed.
The smallest pouch (JARSM measuring 3 9/16″ x 2 1/16″ x 5 7/8″) is perfect for snacks, powdered mixes, small candies, and spices. The medium pouch (JARMD measuring 4 11/16″ x 2 1/4″ x 7 3/4″) ideally stores trail mix, bath salts, veggies, and candies. The large pouch (JARLG measuring 5 7/8″ x 2 5/8″ x 9 9/16″) is great for packaging things like cookies, bulk nuts, noodles, crafts, and more! The possibilities are endless with these adorable shaped pouches!
Bear Pouch
There's nothing more charming than a Bear Shaped Pouch for gummy bears, sprinkles, honey sticks, drink mixes, cookies, or other sweet treats! At 4 mil thick, this pouch is completely clear and comes with an expandable bottom gusset that allows it to stand on its own once filled.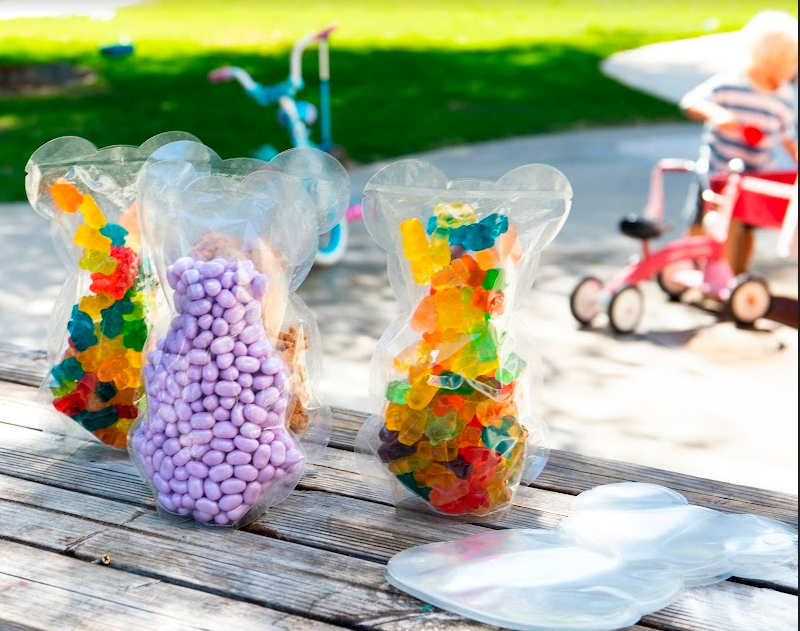 To keep everything fresh, this bag is heat sealable and has tear notches to easily open and access those sweets! Whether you're using these in a retail environment or as a fun way to package sweets as party favors, these bags will definitely stand out against other pouches.
Gumball Pouch
Do you remember those classic gumball machines from your childhood? Bring that nostalgia back with these Gumball Machine Shaped Pouches! With a classic red on the top and bottom, the middle section is clear to show off your gumballs, candies, colorful bath salts, and more.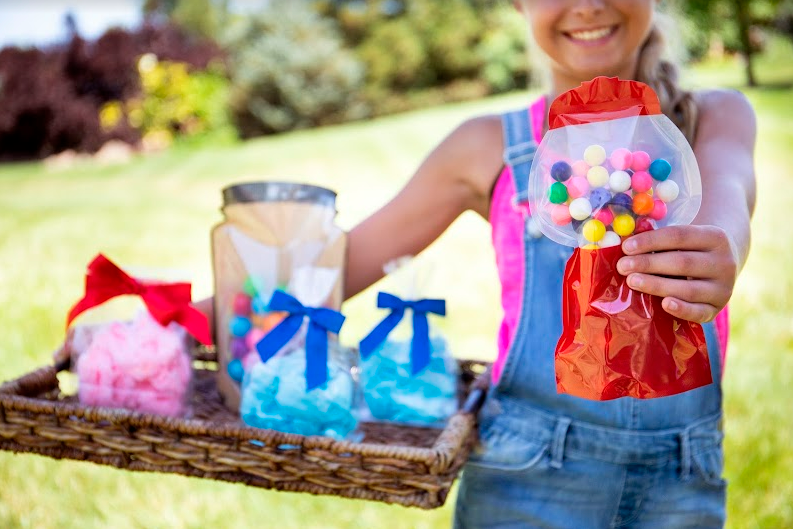 These pouches are designed to stand on their own when filled and are heat sealable to keep treats fresh. These pouches are sure to catch eyes in any store or as a wedding favor filled with the bride and groom's favorite candy.
Coffee Cup Pouch
Coffee Cup Shaped Pouches will warm the heart of any coffee lover! With a white lid and a brown coffee sleeve printed on a clear bag, these pouches are perfect for coffee beans, hot cocoa mix, or other snacks or treats.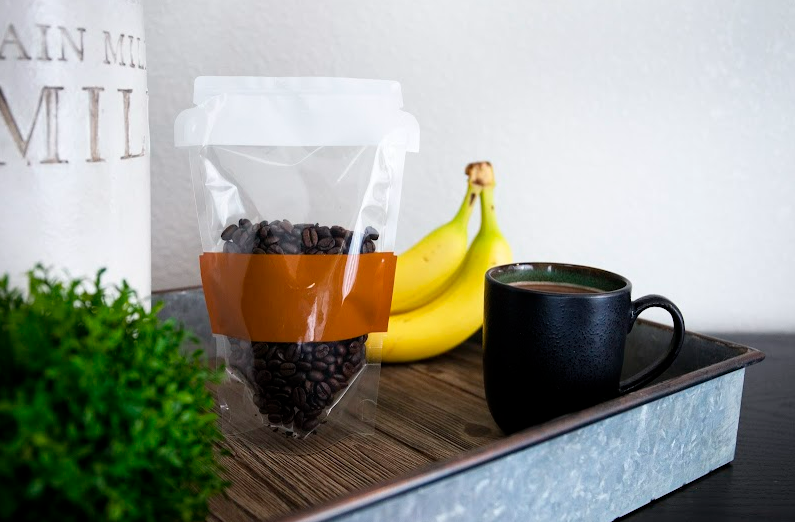 Made from a durable 4 mil thick food safe material, these bags are heat sealable to lock in freshness, but can be easily opened with the tear notches. You'll mocha your customers very happy with these unique shaped pouches filled with fresh beans or sweets!
Popcorn Pouch
Perfect for carnivals, movie parties, or just as a fun way to carry a crunchy treat, these Popcorn Shaped Pouches bring that nostalgic feeling of a classic popcorn bag to your business, home, or event! Ideally used for sweet or savory popcorn, these bags can also be used for any sweet treat or party favor.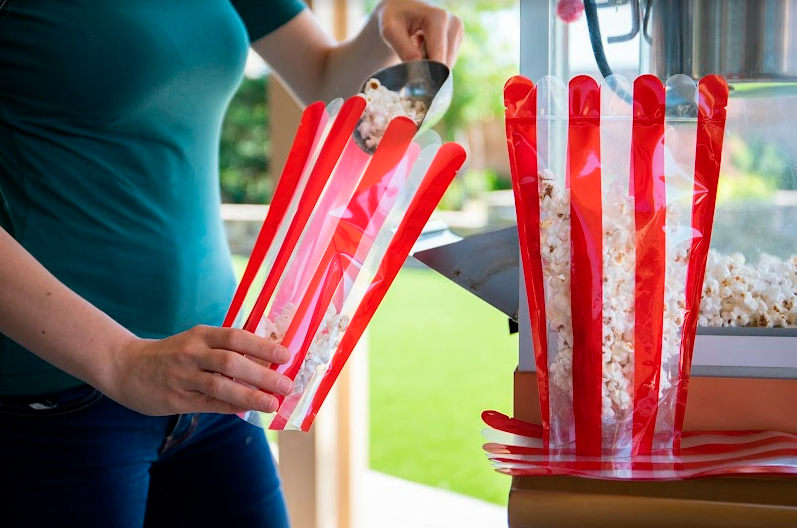 These bags featured classic red stripes and a scalloped top for a timeless look. Each pouch is designed to stand up and will look great on any shelf, counter, or display. With discrete tear notches, these pouches seal tight with a heat sealer to keep its contents fresh but can be opened easily. These popcorn pouches are sure to bring smiles!
Kraft Mason Jar Pouch
Available in 2 different sizes, these Kraft Mason Jar Pouches come with the option of a clear front or completely solid to cater to your packaging needs. The black outline and silver lid give the look of a classic mason jar– perfect for candy, cookies, bath products, crafts and more!
Kraft Mason Jar Pouches are available with or without a resealable zipper, but all can be sealed with a heat sealer for a tamper resistant closure. When filled, these pouches stand on their own and can rest on counters or retail displays. They also make beautiful gift packaging for baked goods or your favorite soup mix to share!
Apothecary Jar Pouch
Whether you're packaging luxury bath salts or yummy brownies, these Apothecary Jar Shaped Pouches are a novel way to package your products! Available with a clear or frosted front, these pouches come with a resealable zipper and are heat sealable to keep your product fresh.
The inside and back of these apothecary pouches are a shiny silver and have plenty of room for branding or nutritional labels. Perfect for retail environments or a fun party favor, these pouches are sure to captivate customers and friends alike!
Your product is unique and deserves packaging that will make it shine! These shaped pouches can be used in retail environments, events, or even in your own home and pantry. They are sure to be a crowd favorite with their unique shapes and sizes able to fit any product.
We'd love to see what you decide to use these shaped pouches for! Let us know in the comments or tag us on social media!