Packing for Summer Travel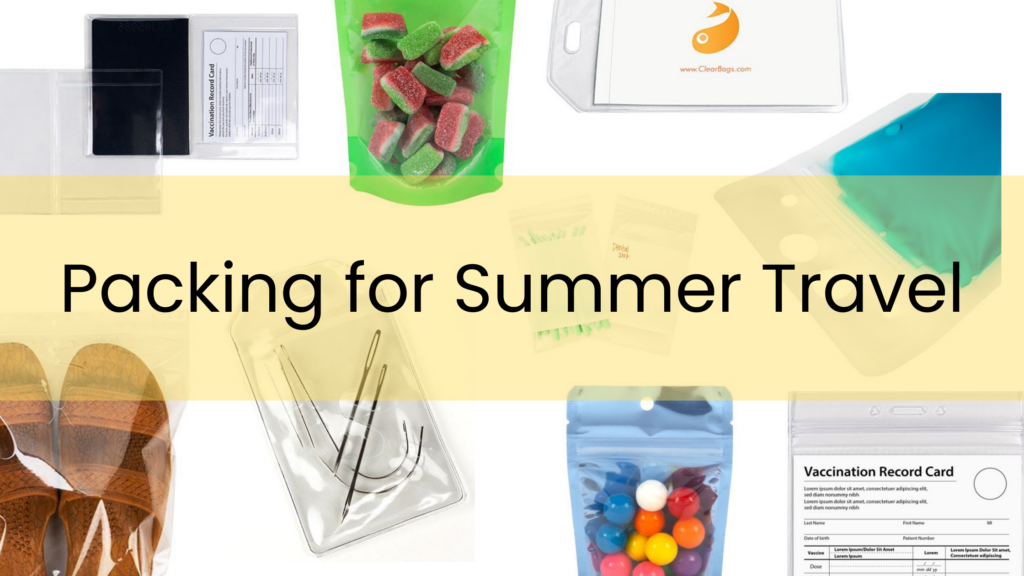 School is almost out for the summer and you know what that means… Summer travel! Whether you're taking a roadtrip or flying around the world, ClearBags has bags and pouches that can make traveling a little easier.
Drink Pouches
Drink pouches are perfect for the beach, picnics, by the pool, or really any on the go activity. These pouches hold 400ml (around 14oz) of liquid and come with an expandable bottom so it can stand on its own when filled. A resealable zipper makes it easy to keep your drink from spilling. Available in clear and frosted options, you can easily write the names or contents on the outside to make sure things stay organized and everyone knows whose drink is whose!
Our drink pouches are perfect for summer travels! They are specially designed to be easily carried and can hold a straw for convenience. Take these pouches with you to all your summer activities!
Vinyl Vaccine Card Holders
With traveling picking up after the pandemic, make sure your CDC Vaccination Card is protected from dirt, dust, spills, and more. Our Vinyl Vaccine Card Holders are available in two options — as a vinyl cover for just the vaccine card or a vinyl cover for your vaccine card AND passport.
These vaccine card holders are made from 8 gauge crystal clear vinyl to make sure your card and passport are clearly visible. The single vaccine card holders come with a zipper closure and lanyard-style hang holes for secure closure and display of your card. Make sure you have the proper documents when traveling!
Zipper Bags
Nothing is more annoying than being stuck behind someone who is not ready to go through TSA. Make sure you're not that person by packing your liquids in clear zipper bags to be easily removed and run through security. Our zipper bags come in over 100 variations — size, thickness, material, with or without vent holes, sliding zippers, and more!
White Block Zipper Bags are perfect for making sure medications are well labeled and ready for travel.
Keep your clothes fresh and clean from dirty shoes with zip bags!
Luggage Tags
Make sure you never lose your baggage again with Vinyl Luggage Tags! These durable tags can protect name cards from frequent handling. Made from 7.5 mil thick clear vinyl, these tags won't break or tear. Place these on luggage, gym bags, diaper bags, kids backpacks, and more! Perfect for summer travel fun, you can attach these tags with ribbons, string, or Clear Worm Loops (sold separately).
Another creative way to use these luggage tags is by creating a small, on-the-go sewing kit. Place a few sewing needles, thread, safety pins, and a few buttons inside. This small kit will not take up much space but will come in handy when needing to make small repairs.
Pouches
Snacks are a must on any travel adventure! Perfectly portion out your favorite snacks into zipper pouches for easy storage and distribution on long road trips or adventures. Our stand up zipper pouches come in so many different sizes, styles, and colors that you can find the perfect pouch for any snack.
For those traveling with kids, coordinate colors with snacks or with each child to make sure there is no fighting or confusion as to whose snacks are whose.
Summer is for traveling! Make your summer trips a little easier with bags, pouches, holders, and more! We'd love to see how you use ClearBags for your travels! Comment below or tag us on social media.