Featured Customer: Neese's Creations, LLC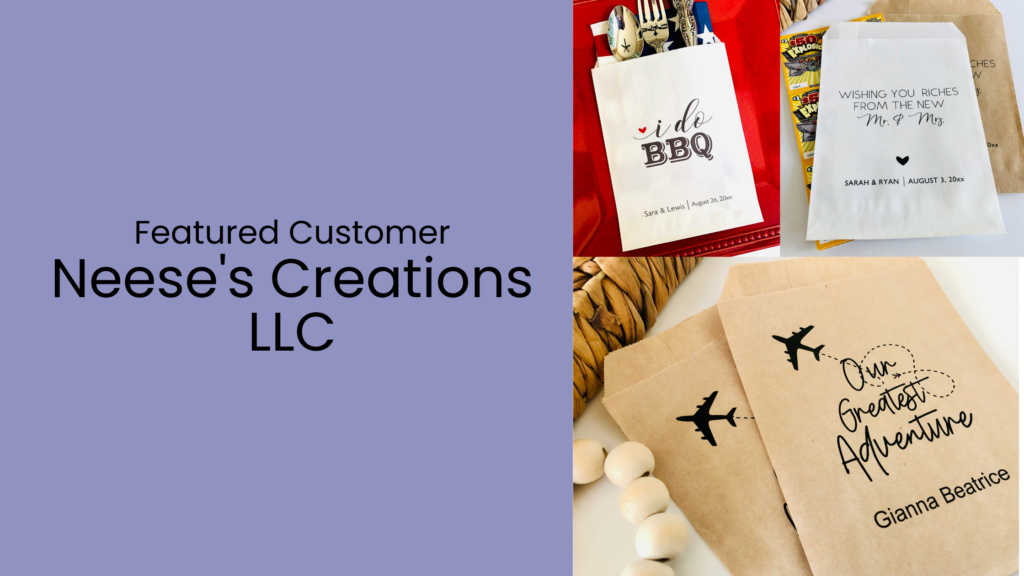 Tell us a little about your company:
Neese's Creations is a handmade shop where we create personalized gift tags, digital templates, labels, & stickers for weddings, baby showers, graduations and more. Our company is owned and operated by my identical twin sister and myself; Denise & Lenise. Our mom always called us "Neese" so it only seemed fitting when we started this adventure that we named our shop Neese's Creations and our love for crafting! This journey started many years ago with scrapbooking and overtime we've used those skills to create projects of all kinds for friends and family using a variety of materials. So, when you want to personalize a gift, make party favors, create decor for your special occasion but simply don't have the time or know how, well that's where Neeses' can help!
What makes your product unique?
What makes our product unique is its personalized and handmade especially for the customer and no two items are the same.
How do you package your products and what ClearBagsⓇ products do you use?
We use ClearBags merchandise bags, colored envelopes and clear bags & boxes. Some of these items are used for creating our products and others are used for packaging. The Merchandise Bags for example are perfect for printing typography designs for party favors or for utensil holders.
Where do you sell your products?
On the Etsy Marketplace – etsy.com/shop/NeesesCreations
How long have you been working with ClearBags and how does ClearBags help you succeed?
We placed our first order with ClearBags in 2020. Once we discovered ClearBags and their wide array of products we knew we had found a resource for so many of our business needs and it freed us up to spend more time on other business matters to help grow our business. It's the first place we search when we have a need for additional materials.
What one piece of packaging advice would you give to other business owners?
One piece of advice we would give other small business owners is to invest in quality packaging & materials to create your products. The package and product the customer receives is the first impression a customer has of your company and it's important you make that first impression a good one. If your materials are good quality customers are more likely to associate your brand and product with good quality and potentially order again.
How can people connect with you?
Instagram, Facebook and TikTok – @neesescreations
Videos: