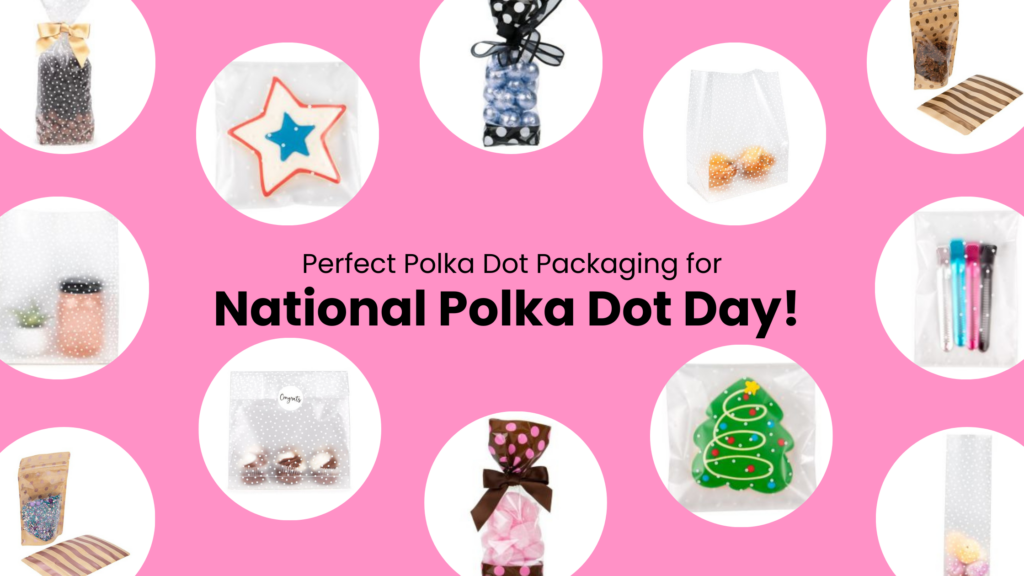 Did you know that National Polka Dot Day was started to celebrate Minnie Mouse and her iconic polka dotted dress? Now Polka Dots are a reminder of cheerfulness and childhood but can also be used on packaging for an elevated, unique look. Polka Dot Bags are sure to stand out in retail, bakeries, markets, and as gifts or party favors.
Frosted Flap Seal Bags with Polka Dots:
Available in 5 different sizes, these frosted flap seal bags with polka dots are ideal for single serve or mini cookies, baked goods, stickers, hair accessories, crafts, soaps, bath bombs, and more! These bags are made of 1.4 mil BOPP material that is food safe. Each bag features a reusable adhesive strip that allows you to adjust the length of the bag. Elegant and easy to use, these polka dot bags come in packs of 100.
Frosted Polka Dots Flat Bottom Gusset Bags with Paper Inserts:
Take your standard gusset bag and give it a polka dot twist! These frosted polka dots flat bottom gusset bags with paper inserts are perfect for party favors, gifts, or just for some cute, unique packaging! The flat bottom design allows these bags to stand on their own when filled and can be easily closed with a ribbon, pre-tied bow, or folded down and secured with a sticker or custom label.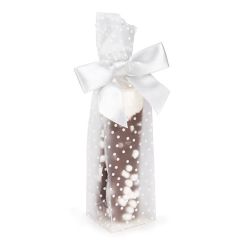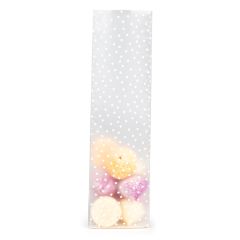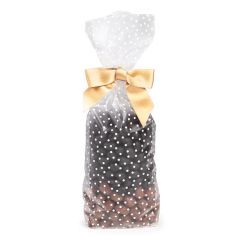 Printed Cello Gusset Bags:
Designed to hold candies, treats, cake pops, and other small gifts, Polka Dot Printed Cello Gusset Bags are perfect for weddings, parties, and any other celebration. These bags are printed with polka dots on the top and bottom with a clear middle to show off the contents. The expandable side gussets give a little extra room for bulkier items and can stand upright when filled. Available in 3 different color combinations and 2 sizes, these bags will add some polka dots to your next party!
Kraft Stand Up Zipper Pouch with Dots & Stripes
With a reusable, airtight zipper and the capability to be heat sealed, Kraft Stand Up Zipper Pouches are perfect for retail. Package a dozen mini cookies, bath salts, pet treats, wax melts, craft supplies, and more! These fun bags come with polka dots printed on the interior panel and stripes printed horizontally on the back panel. Each bag features a clear front to let its contents (and polka dots) to be seen. These pouches measure 5 1/8″ x 3 1/8″ x 8 1/8″ and are available in 3 colors.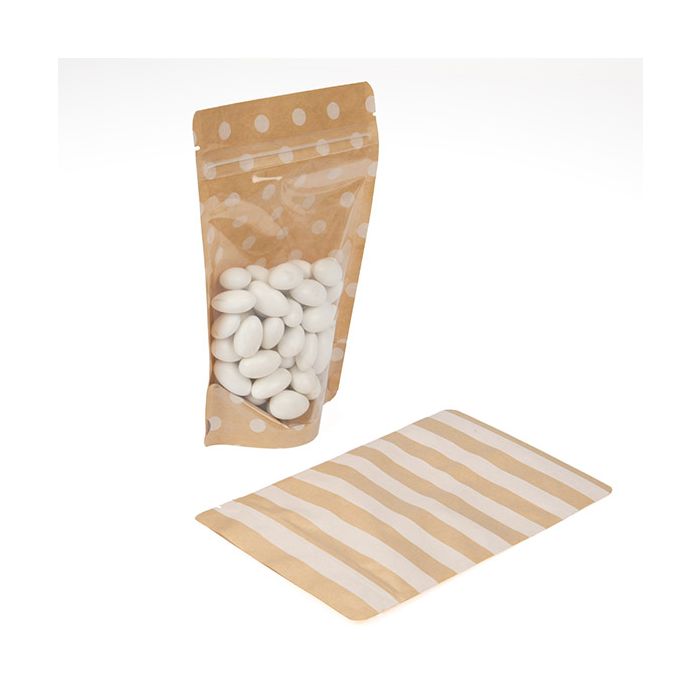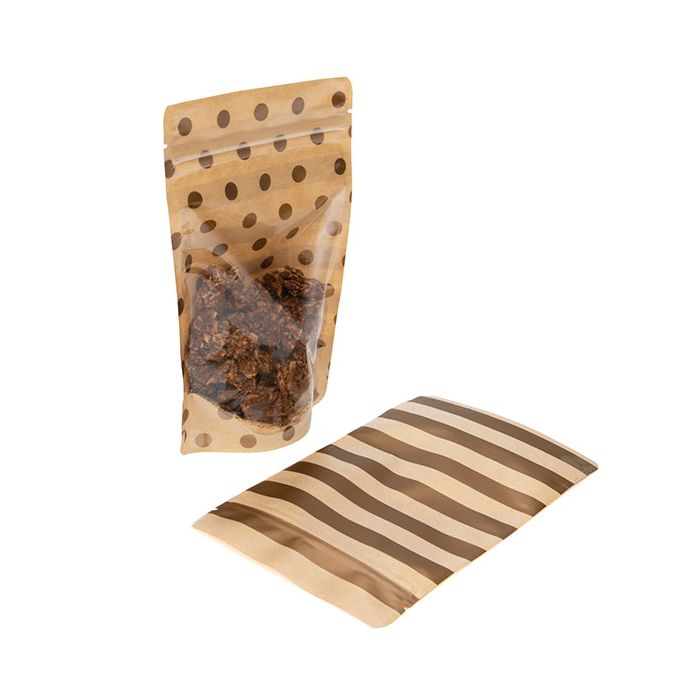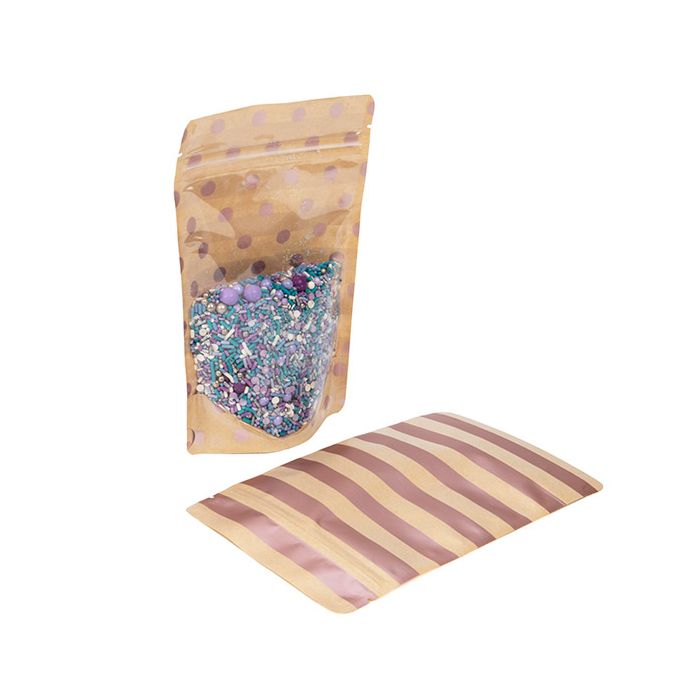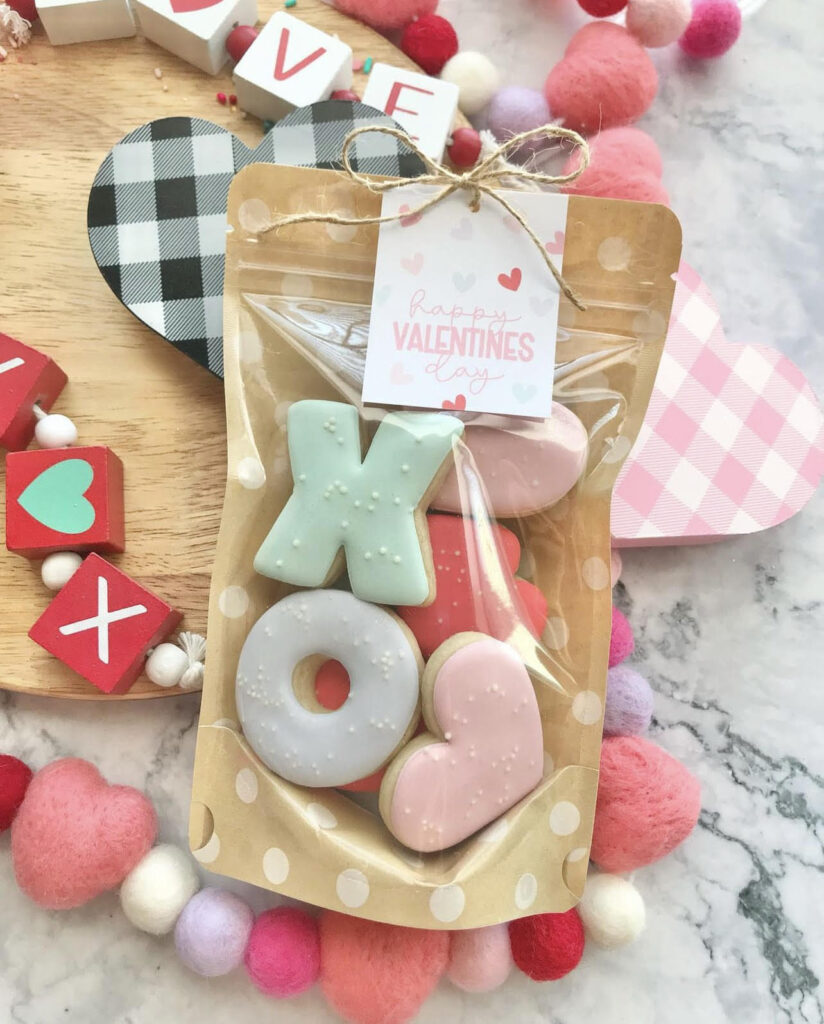 Frosted with Polka Dots Cupcake Bag Sets:
Delicious cupcakes deserve beautiful packaging! Frosted with Polka Dots Cupcake Bag Sets are perfect for packaging single, double, or a set of 6 mini cupcakes, muffins, bath bombs, or hot cocoa bombs. These sets come with an outer bag and cupcake inserts to securely hold the cupcakes. The Frosted Polka Dotted outer bags come with a white paper insert for extra stability. Give them a finishing touch by tying off the top with a ribbon or pre-tied bow or fold the top down and secure with a sticker.