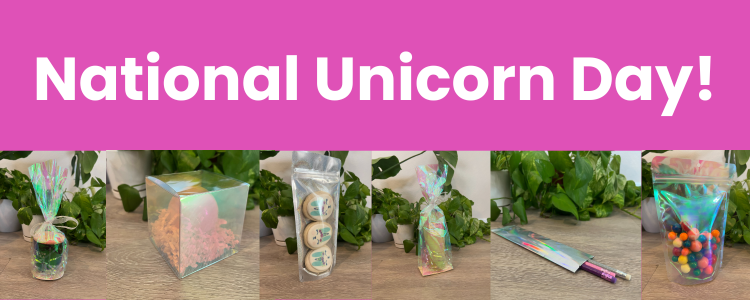 National Unicorn Day was first celebrated in 2015 to celebrate the legendary creature. Though we haven't seen a unicorn in real life, our iridescent and holographic bags and boxes are a great way to celebrate this magical day with bright, reflective colors that are sure to stand out!
Gusset Bags
To kick-off unicorn day, we'd love to showcase our iridescent gusset bags that radiate color and give all kinds of unicorn vibes! With a little extra room for bulkier items, gusset bags are perfect for thank you gifts, party favors, events, and more! Available with a flat bottom with a paper insert or a round bottom base, these iridescent bags shine.
Flat Heat Sealable Bags
Nothing says unicorn more than sparkle and shine! For a tamper resistant closure, heat seal bags come in a variety of sizes and in our holographic or glitter holographic prints. Use these sparkly bags for surprise packs for specialty cards or figurines, cookies, pet treats, or office supplies. The possibilities are endless!
Zipper Bags and Pouches
Some people speculate that unicorns in our everyday world come in all shapes and sizes (like the rhino, narwhale, and even the one-horned deer *it's real, look it up*). Just like modern unicorns come in different sizes and styles, zipper bags and pouches are the perfect packaging solution for any kind of product, treat, or craft.
Iridescent Zipper Pouches come in 5 sizes to hold anything from candies and spices to popcorn and bath salts. Made from transparent materials, these iridescent bags show off your product with a colorful touch.
Holographic Hanging Zipper Bags are ideal for the retail environment. Available with or without a clear front, these bags can hold supplements, candy, pet treats, craft supplies, and more!
Glitter and Holographic Backed zipper bags give your
Iridescent Boxes
Unicorns are one of a kind, and you definitely won't find these iridescent boxes anywhere else! Available in our most popular sizes, these new iridescent boxes can add a little unicorn magic to your everyday packaging.
NEW – Holographic Child Resistant Bags
While unicorns are for people of all ages, some products need to be kept away from children. Medicine, edibles, pharmaceuticals, cleaning supplies, and more are safe and secure in Holographic Child Resistant Bags. Designed with a special child-resistant zipper that requires two-hand dexterity to open, these bags keep items safe in a fun, shiny design.
We'd love to see your Unicorn inspired products! Be sure to tag us on social media!