Jewelry Packaging featuring MIMOSA Handcrafted Jewelry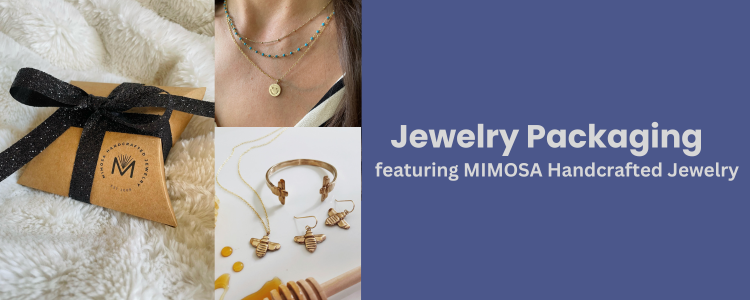 When packaging your handcrafted jewelry, you want to be sure it showcases and protects each piece. Make sure your jewelry is safely and beautifully packaged in the right packaging. Today, we wanted to feature one of our customers who uses ClearBags packaging for their business as well as share some of our most popular items for jewelry packaging.
MIMOSA HANDCRAFTED JEWELRY
MIMOSA Handcrafted Jewelry use custom-printed kraft pillow boxes and kraft paper envelopes by ClearBags for a professional, beautiful presentation when selling or gifting their unique handcrafted jewelry pieces.
Learn a little more about their company below.
Tell us a little about your company
MIMOSA Handcrafted jewelry is intentionally designed to foster connection and mark the moments in life that deserve to be remembered. The pieces are inspired by landscape, culture, and the human experience. MIMOSA uses the ancient art of Lost Wax Casting to create unique bronze, sterling silver, and 14k gold jewelry. Each piece is created start to finish in our South Louisiana studio by our in-house team. We are committed to our #goodsforgood initiative as where we turn our goods to good paid forward.
How do you package your products and what ClearBagsⓇ products do you use?
Currently we package our pieces in small cloth bags stamped with our logo. We'll wrap it in tissue paper and put it in a mailer box if it is being mailed or into a gift bag if it is an in-person purchase. If it is a gift we will put the jewelry in a cloth bag into our custom printed kraft pillowboxes from ClearBags. We also offer handwritten notes and use ClearBags kraft paper envelopes for the note cards.
How long have you been working with ClearBagsⓇ and how does ClearBags help you succeed?
At least a few years. ClearBags offers a good quality consistent product we can rely on.
How can people connect with you?
Social media – @mimosahandcrafted
website- www.mimosahandcrafted.com
email- [email protected]
phone- (225) 244-9250
ClearBags Jewelry Packaging
Whether you're looking to package jewelry for retail display, farmer's markets, or as gifts, we wanted to share some of our customer's favorite jewelry packaging.
Flap Seal Bags come with an reusable adhesive on the flap. They're designed with durability and convenience in mind so they can be used multiple times without losing their strength or shape. These are some of our most popular bags and are available in thousands of sizes, making them perfect for small pieces (such as earrings) as well as larger items (such as necklaces). For easy retail display, we also offer a variety of sizes in our Hanging Flap Seal Bag line. Each bag loads from the bottom and comes with a reenforced hanging strip.
Some of most popular bags for jewelry include: BA4, B912XL, B69, B108S, B34B, and BD1.




Hanging Flap Seal Bags with product numbers that end in "T" signify they are "Top Loading." These bags were specifically designed for easy packaging of jewelry. (J8T, J1T, J7T, J4T, J3T, J6T)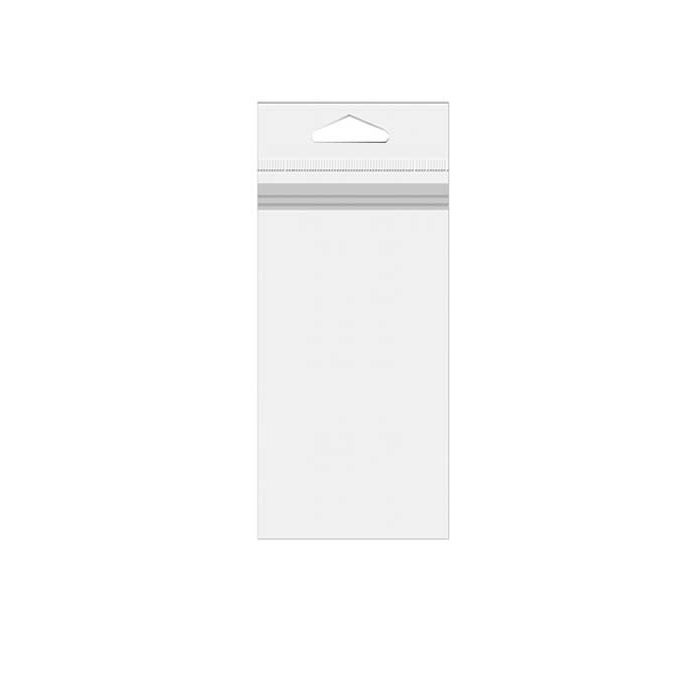 Available in clear, kraft, frosted, or embossed, Pillow Boxes are a great way to package products for retail. Easy to fold and made in a variety of sizes, these boxes make an impact with consumers, and turn what is normally dull packaging into a unique, eye-catching box option.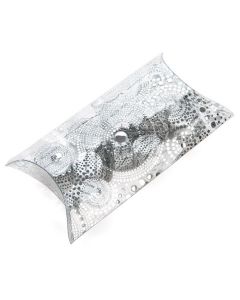 Candy Tackle Boxes are a great way to store beads, stones, hardware, and other jewelry-making supplies. These fun boxes are great for creating "Make Your Own Jewelry" kits for retail, markets, parties, and gifts. While they were originally made for candy, they have so many other uses!
Available with 4, 6, 9, or 12 cavities, the possibilities are endless!
We love seeing how you use ClearBags products for your business! Whether it's jewelry, food, art, or cosmetics, we want to see it! Make sure to tag us on Social Media (Instagram: @clearbags – Facebook: ClearBags)