National Newspaper Carrier Day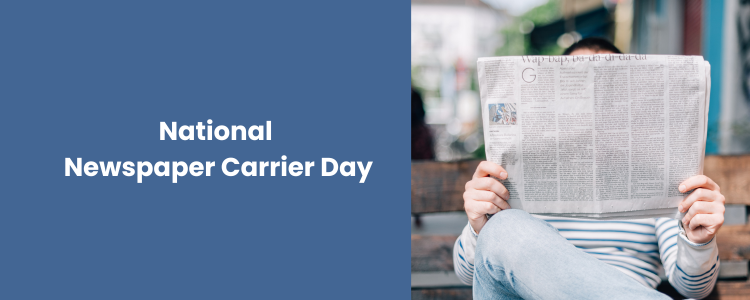 In today's world of digital media dominance, there is something timeless and comforting about opening and reading the newspaper in the morning with your favorite cup of coffee. It's a connection to the world that begins with the thud of a newspaper hitting the doorstep. September 4th is National Newspaper Carrier Day, which gives us an opportunity to recognize and applaud the unsung heroes who make sure their customers receive their daily dose of news each morning in a tangible, printed format.
Here at ClearBags, we offer a variety of different options for newspaper carriers to safely deliver papers, magazines, and other promotional materials that are not only convenient, but they stand out and keep materials protected for all types of weather.
A Tool for Convenience:
Our LDPE Newspaper Bags were designed with the carrier's needs in mind. Each set of 100 bags comes on a cardboard hanger with a perforation at the top for easy tear off. These bags are made from 0.8 mil lightweight LDPE (polyethylene) material and side sealed for durability, making sure your materials stay clean and dry from the outdoor elements. With an extra lip, you can easily tie the top of these bags with a knot to keep out moisture. Available in multiple sizes to accommodate various materials.
Designed to Stand Out:
Although Newspaper Bags are available in the standard clear option, we also offer them in orange and blue to help make sure they aren't missed or hidden and can keep contents a little more discreet than a clear bag.
Knock, Knock:
For the carriers who leave materials hanging on doorknobs, ClearBags offers a variety of Door Knob Flat Bags in both clear and white opaque options and multiple sizes to fit marketing materials, invoices, newspapers, flyers, and more.
*Not all Door Knob Bags do not come on the cardboard hanger. DK1, DK2, DK5, DK7, DK2W, and DK3W come loosely packed as singles. DK3, DK4, and DK6 come bundled on a cardboard hanger.
As National Newspaper Carrier Day approaches, consider investing in high quality LDPE Newspaper Bags and Door Knob Bags to keep your route running smoothly and your materials safe from the elements.

Be sure to check out other Blog Posts to see all the amazing products we have available!
Connect with us on Social Media: Instagram, Facebook, LinkedIn